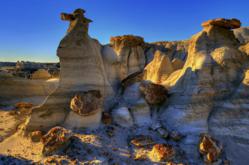 Farmington, N.M> (PRWEB) October 18, 2012
The San Juan Basin which surrounds Farmington, N.M. is a place of layers, sediment collected for 200 million years since the age of dinosaurs. Here the land is wide open and wild, filled with deep, sandy arroyos, and towering, rocky hoodoos, wonderful places for adventure travel, during the cool and calm days of autumn. Two top choices for exploration are the Glade Run Recreation Area and the Bisti/De-Na-Zin Wilderness, both administered by the Bureau of Land Management.
Glade Run Recreation Area on the edge of Farmington has close to 20,000 acres of sandy arroyos, slick rock and rolling terrain to explore. It sits on a high desert mesa, snow-capped mountains in Colorado to the north, monumental Shiprock to the west, and bluffs rising above the San Juan and Animas Rivers in the east.
The Glade is open for a wide range of outdoor activities. There are miles of trails for mountain biking, horseback riding and walkers who enjoy the up and down of sandy hills that are as challenging as they are fun. Many mountain bikers consider the Glade a rival for Moab. Larger open areas in the Glade accommodate off-highway vehicle (OHV) use. Here rock crawling up steep slopes and great boulders in rugged and bizarre vehicles is a popular pastime.
There are multiple ways to enter The Glade. The most common entrance is off of Piñon Hills Blvd. onto Collage Blvd. to the Lions Wilderness Park. No fees are charged or permits required. Detailed information and a map to download are available online from the BLM. The Farmington Field Office for the Bureau of Land Management is at 6251 Collage Blvd.
The Bisti/De-Na-Zin Wilderness is one of the most unique and scenic areas in the West. Lovers of geology and photography rate the Bisti among the top attractions in the country. This gem is an eerily spectacular maze of hoodoos and remarkable land formations. In the Bisti hikers find traces of the ancient past, petrified wood, dinosaur tracks and bones. Designated a Wilderness Area by Congress in 1984, it is available for backpacking, camping, wildlife viewing, photography, and horseback riding. The Bisti is somewhat remote and has no designated hiking trails, a true wilderness 36 miles south of Farmington, off NM 371, where a small sign signals a left turn onto road number 7297. From there it is two miles further down a gravel road to the main parking area. Visitors usually begin their exploration in the Alamo or Gateway Wash. It is an approximately two-mile hike to the most spectacular sites.