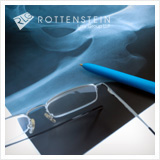 New York (PRWEB) October 29, 2012
According to Irish newspaper the Kildare Nationalist, a woman who had two hip replacement operations—Irene Pierson—"intends to bring what is expected to be the first of many cases over allegedly defective hip implants." Ms. Pierson reportedly is "one of thousands... who had DePuy Orthopaedics hip joints fitted in Irish hospitals before DePuy ordered a worldwide recall" of its all-metal ASR devices in 2010.
Ms. Pierson alleges that the hip implants she was fitted with "were not of merchantable quality, and have both commenced to malfunction. She claims that the defendants have acted in breach of contract and she is seeking to recover damages." Ms Pierson's legal counsel obtained a court order allowing him to serve notice of the suit on intended defendants—DePuy and its parent, Johnson & Johnson—who are outside the jurisdiction of the Irish courts.
Rochelle Rottenstein, principal of the Rottenstein Law Group, implores anyone with a friend or relative who has received a dangerous hip implant or other medical device to reach out to that person and recommend that he or she consult a physician immediately and then speak to a qualified personal injury lawyer. The Rottenstein Law Group maintains a DePuy Recall News Center at http://www.depuyrecallnewscenter.com. (Attorney advertising. Prior results do not guarantee a similar outcome.)
About THE ROTTENSTEIN LAW GROUP
The Rottenstein Law Group is a New York-based law firm that represents clients nationwide in
mass tort actions. The firm was founded by Rochelle Rottenstein, who has more than two decades of experience as a lawyer, to represent clients in consumer product injury, mass tort, and class action lawsuits in a compassionate manner. http://www.rotlaw.com
Contact:
The Rottenstein Law Group, LLP
Rochelle Rottenstein, Esq.
321 W. 44th Street
Suite 804
New York NY 10036
(212) 933-9500 (office phone)
(212) 933-9980 (facsimile)
rochelle(at)rotlaw(dot)com
http://www.rotlaw.com