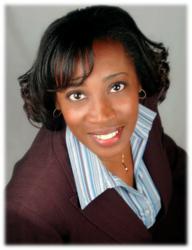 We're middle class and we do OK, but with 2 kids in college and an aging parent who works because she has to, I'm in a financial sandwich. I'd like some meat on that sandwich. Right now, I am undecided and very frustrated."
Raleigh, NC (PRWEB) October 18, 2012
With this year's presidential election mere days away, both battleground and swing states are key factors in the race for the White House. Olalah Njenga, a small business owner in Raleigh, North Carolina, refers to herself as a black, conservative, unaffiliated, undecided, female voter. She remains undecided after both presidential debates although early voting kicks off in North Carolina today. Njenga's undecided and unaffiliated status was a factor in Washington Post reporter J.D. Harrison's selection of her for his series on small business and politics.
Njenga has three first-time voters in her household this year and the discussions about money, jobs, taxes and quality of life are heated ones at her dining room table. "As a small business owner hoping to grow the company, and having a spouse with a good salary, I feel penalized for doing well. The thought of paying a little bit more in taxes makes me scream but the thought of giving up my right to make decisions about my own body is dumbfounding," Njenga remarks.
The Washington Post's articles with debate feedback from Njenga and the other small business owners from swing states are available at these links:
Small Business Reaction To Presidential Debate #1: October 3, 2012: http://wapo.st/U9mUnF
Small Business Reaction To Presidential Debate #2: Octobr 16, 2012 http://wapo.st/T2VfCS
The 3rd and final Presidential Debate is scheduled for October 22, 2012 at 9pm EST and will be broadcast by most major networks.
When asked if she will lean toward a candidate and take advantage of North Carolina's two-week early voting period, Njenga commented, "I need both candidates to be more specific about their recovery and restoration plans for America. I want details about how each plan will impact my quality of life and my livelihood. We're middle class and we do OK, but with two kids in college and an aging parent who works because she has to, I'm in a financial sandwich. I'd like some meat on that sandwich. Right now, I am undecided and very frustrated."
In March, 2012, Njenga met first lady Michelle Obama at a private event in Raleigh and shared a laugh with her about Njenga's name. The first lady's parting comment to Njenga, "We need women business owners like you in North Carolina," stills echoes in Njenga's mind as she contemplates casting her vote in November.
About Olalah Njenga:
Olalah is a gifted marketing strategist who shares her powerful, content-packed message for small business success to appreciative audiences across the United States. A true champion for small business owners, Olalah is a Braintrust Contributor® at Forbes.com and SmallBusinessAdvocate.com and has been spotlighted on Fox News, Small Business Trends and Idea Café. Olalah is a two-time Top 50 Catalyst Entrepreneur award winner for helping her company achieve record growth in a recession. Contact Olalah through her websites at http://www.YellowWoodGroup.com and http://www.Olalah.com or via Twitter at @Olalah.