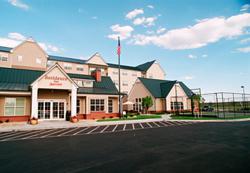 Aurora, Colorado (PRWEB) October 20, 2012
The Residence Inn By Marriott Denver International Airport, an extended stay hotel destination close to DIA, is proud to announce it will be providing lunch to local businesses November 15th 2012 from 1130AM to 1PM MST. A variety of foods will be available at the hotel to support local business and there will be park-n-fly coupons available. In addition, there's the opportunity to win a weekend nights stay at the hotel and free parking for a week for the holidays with free airport shuttle service. Just another way the Residence Inn by Marriott Denver International Airport thanks the local business community for its support.
The Residence Inn by Marriott hotel in Aurora, Colorado, serving free breakfast daily, is conveniently located within 10 miles from Denver International Airport and close to local businesses including Boeing, Lockheed Martin, Raytheon, Northrop Grumman, Scitor, SAIC, University of Colorado Hospital, Children's Hospital, ProLogis and Buckley Air Force Base. Our spacious extended-stay hotel suites feature fully-equipped kitchens and full size appliances with separate hotel living room and bedroom space. Relax in our library, catch the news in the lobby, or unwind over a game of tennis. Join us for Managers Reception Monday through Thursday serving beer, wine, soft drinks and a light meal. Airport shuttle service operates 24/7; making this Denver International Airport hotel's conveniences ideal for those hosting a meeting or group training. Our on-site facilities are perfect for groups of 20-40, but can accommodate up to 90. The Residence Inn by Marriott Denver International Airport hotel is proudly managed by Stonebridge Companies in Denver, Colorado.
Founded in 1991 by Navin C. Dimond, Stonebridge Companies is a privately owned, innovative hotel management company headquartered near Denver, Colorado, which has developed over 60 hotels and operated more than 75 lodging properties. Currently, Stonebridge Companies operates over 47 hotels comprising in excess of 7,000 guest rooms in Alaska, Arizona, California, Colorado, Nevada, Utah and Virginia. The diverse portfolio includes select-service, extended stay, mid-scale and full-service hotels in primary and secondary markets. For detailed information, visit our website at http://www.SBCOS.com.