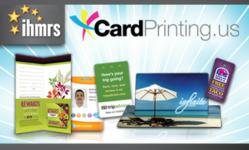 The company has adopted a "can do" attitude when it comes to delivering only quality products and services that meet customers high standards
(PRWEB) October 20, 2012
The 2012 International Hotel, Motel + Restaurant Show will be held at The Jacob K. Javits Convention Center in New York City on November 10th-13th. Tele-Pak CardPrinting.US was sent a special invitation to participate by the organizers of the show.
Considered one of the most popular and anticipated events in the hospitality, restaurant, and retail industries, the IHMR show features exciting and innovative displays in hundreds of booths exhibiting different products and services. More than 700 exhibitors and 30,000 visitors are expected to attend.
Tele-Pak CardPrinting.US is a leading global provider of custom plastic cards, key tags and plastic printing solutions. The company has adopted a "can do" attitude when it comes to delivering only quality products and services that meet customers' high standards. Its staff includes talented designers who are willing to "bend over backwards" and exceed customer expectations to accommodate any specifications and requirements in print, design, and execution. Rush print jobs are a cinch with Tele-Pak, and are actually part of the services the company offers. What's more, it features the most cost-effective solutions in the online printing industry.
Hotel, motel, restaurant, and retail chains can benefit from the various products and services which Tele-Pak CardPrinting.US can customize for the IHMR show. For instance, it offers highly effective and brilliant cross brand promotional printing for local businesses such as eateries and shops while the event is on-going. Participants and guests can use hotel key cards and door hanging cards for directional and contact reference to shops, restaurants, and other services they need and want at any time. The company can also do stock programs for participants and exhibitors of the show.
Tele-Pak designs, prints, packages, and delivers hotel and restaurant marketing tools such as hotel key cards and holders, gift cards, pop ups, plastic signage, Do Not Disturb signs, menus, ID cards, membership cards, employee cards shower, hanging cards, door hanging information sheets, smart cards, RFID cards, scratch cards, card sleeves, key tags, luggage tags, in-room plastic information sheets, and more – in quantities as small as 250 or into the millions.
For over 25 years,Tele-Pak Card Printing has partnered with the hospitality industry to provide hotels and motels with all their plastic printing needs and accessories.
This year, make sure to visit booth number 1871 at the IHMR show to check out the new and exciting products and services Tele-Pak CardPrinting.US has to offer.