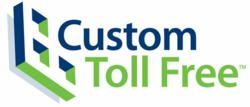 "At Custom Toll Free we are dedicated to helping clients succeed. The new Numspell app is just one of many tools being developed to help our clients and our FB community use and understand vanity branding." -- Christy Green, VP of Sales & Marketing
Mill Creek, Washington (PRWEB) October 18, 2012
Vanity branding comes to Facebook with the brand new Custom Toll Facebook app to help customers see what a phone number can look like as a potential vanity number. User can enter any seven-digit numerical combination and see just what kind of success is spelled out. It could be a home number, a mobile number, or a proposed number for a potential business venture.
What can phone numbers spell? What catchy combinations can appear through the simplicity of seven digits? Vanity numbers are quite commonplace on billboards, bus stops, and business cards, but what many people don't know is that they may already have a vanity number. Just plug in the digits and the Custom Toll Free Numspell app will automatically twist the algorithms and find the best possible combinations for your number.
For fun or for better business, the Custom Toll Free Numspell app will help find potential 800 toll free numbers for businesses. Should users wish to make the number official for their business, Custom Toll Free is right there waiting with the best 800 number look up tools in the industry. Since this is a free app for Facebook users, Custom Toll Free will not contact or make an attempt to sell any number that appears through the app. Furthermore, since area codes aren't required to use the app, the numbers aren't traceable to any area.
As part of Custom Toll Free's top-notch service toward bringing memorable numbers to all customers, the Numspell Facebook app is a fun and new means of showing users how to convert their local numbers into instant vanities. For questions and concerns regarding Toll Free Benefits for Business, please check out the official page at http://www.customtollfree.com.