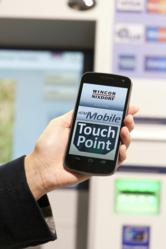 According to Oliver Weber, President and CEO, Wincor Nixdorf's PC/E Mobile Cash application is the best solution for today's consumer by truly making money mobile.
Rheda-Wiedenbrück, Germany (PRWEB) October 19, 2012
To meet the fast-paced lifestyle of their consumers, banks are increasingly networking their services between the branch, Internet, mobile banking and self-service delivery channels so that customers can manage their transactions on the go. To help financial service providers meet their customer's needs and be competitive in the marketplace, Wincor Nixdorf showcased its PC/EMobile Cash application as part of Wincor World, Oct. 16 in Germany.
Hosted by Wincor Nixdorf and featuring more than 500 exhibits, Wincor World is the largest event for retail IT professionals and managers from the banking and retailing sectors from more than 90 countries.
"Smartphones are a constant companion of today's consumer, and the smart bank is the one that is supporting its customers across all channels," said Oliver Weber, President & CEO of Wincor Nixdorf, U.S.A. "Our PC/E Mobile Cash application is the best solution for today's consumer by truly making money mobile."
Market research by Gartner projects transactions on mobile devices to exceed $600 billion worldwide by 2016. As a result of this growing demand, Wincor Nixdorf developed its new smartphone application in conjunction with its self-service delivery model, effectively integrating mobile devices with automated tellers.
Using a smartphone to find the nearest ATM or to prepare transfers or cash withdrawals, including the option of choosing denomination of cash, the PC/E Mobile Cash application significantly reduces the amount of time consumers must wait in line or wait at an ATM.
PC/E Mobile Cash also allows other business transactions, including payment of a bill by cash, dispensing cash to a third party or even receiving a deposit, such as a payroll check. Visitors to Wincor World were able to fully test these functions using their own smartphone.
Security and consumer flexibility are strong features of PC/E Mobile Cash application as well. Bank customers can decide for themselves how they want to authenticate themselves at the ATM, using either their bank card and PIN or without a bank car using two independent codes. These independent codes assure secure transactions, allowing the consumer to use a freely selected code and matching it with one generated by the mobile cash server at the time of the transaction.
Weber said the PC/E Mobile Cash application is available immediately and banks can integrate the solution into their existing self-service network, providing customers with this new service quickly and reliably. Once adopted, Wincor Nixdorf and the bank will make the apps available on the relevant app stores.
About Wincor Nixdorf
Wincor Nixdorf is one of the world's most successful IT solution specialists for process optimization at the consumer touchpoint, covering its core industries of banking and retail. With its U.S. headquarters located in Austin, Texas, Wincor Nixdorf Inc. provides a broad range of innovative hardware and software solutions, complemented by high-end services to many of the world's biggest and most well-known business organizations, raising overall efficiency of procedures and workflow to improve consumer engagement and reduce operational costs. Wincor Nixdorf has a presence in more than 100 countries and annual sales revenue of $3 billion. For more information, visit http://www.wincor-nixdorf.com/usa.