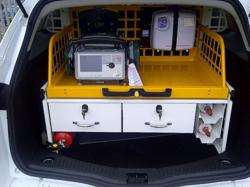 Santa Fe Springs, CA (PRWEB) October 20, 2012
Accuride announces the release of the CB-Hand Locking Handle Kit, a product designed to add lock-in and lock-out to drawers or trays mounted on heavy-duty slides. The locking feature is activated with a centrally located push button. There are two product options: a standard front-mounted kit with lock-in only, and a rear-mounted conversion kit that adds the lock-out feature.
Made with lightweight and corrosion-resistant components, the CB-Handle Locking Kit is ideal for mobile applications such as drawers and trays in carts, or utility and emergency vehicles. The lock-in feature secures pullouts for transit, while the lock-out ensures safe access to contents.
Compatible with most of the Accuride heavy-duty product line, the CB-Hand Locking Handle Kit may be added to models such as 3600, 7957, 9301, and other slides with a .75" side space or greater. This product accommodates drawers up to 60-inches-wide.
Cut-to-length stainless steel rods allow installers the flexibility to add the locking handle to a variety of drawer widths. Visit http://bit.ly/IECB-Hand for detailed product specifications.
About Accuride International:
For more than 50 years, Accuride International has been a leader in the design and manufacture of ball bearing slides and movement solutions for a broad range of applications across a variety of industries. Offering engineering and product design, application solutions, manufacturing expertise, and more, Accuride is a worldwide presence who can collaborate with companies in any industry, anywhere. For more information, visit http://www.accuride.com.