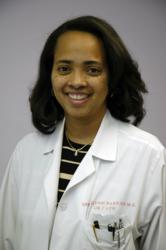 Camden, NJ (PRWEB) October 18, 2012
Lourdes Ob-Gyn Sherrilynn Parrish, MD, FACOG will receive the March of Dimes Foundation's Born to Shine award at the organization's annual gala on October 20 in Atlantic City. The coveted award honors local top physicians in the fields of maternal and child health.
For the past 20 years, Dr. Parrish has been a champion of women's health at Lourdes. In addition to her role as Chief of the Gynecology Division at Our Lady of Lourdes Medical Center, Dr. Parrish is also a physician at Lourdes Medical Associates (LMA) Women's Healthcare of Collingswood and Sicklerville and serves on the Board of Trustees at Our Lady of Lourdes Health Care Services.
"Dr. Parrish has been a role model for her staff and physician peers for many years," said Alexander J. Hatala, president and chief executive officer of Lourdes Health System. "She goes beyond caring for her patients and takes the time to know them on a personal level. Her clinical excellence and complete dedication to her patients and the field of women's health make her truly deserving of this award. We are honored to have Dr. Parrish as part of our team."
Dr. Parrish received her bachelor's degree from Georgetown University in Washington, D.C. She distinguished herself at Howard University College of Medicine, graduating among the top students in her class, and at Howard University Hospital, where she received awards for "Intern of the Year" and "Chief Resident of the Year."
Although her academic career took her out of her home state, Dr. Parrish remained committed to the community of southern New Jersey and returned to her hometown to practice medicine. She has lectured throughout the area on women's health issues and has volunteered her time to organizing and participating in health fairs within the local community. She has also been named a "Top Doc" numerous times by South Jersey Magazine and SJ Magazine.
Dr. Parrish is a fellow of the American College of Obstetrics and Gynecology and belongs to several professional associations including the National Medical Association, the American Medical Association and the New Jersey Obstetrical & Gynecological Society. Dr. Parrish resides in Sewell, New Jersey with her husband, Lawrence, and their two daughters.