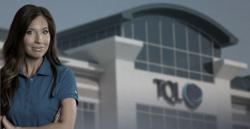 Our primary hiring need is for entry-level sales professionals.
Cincinnati, Ohio (PRWEB) October 22, 2012
Total Quality Logistics (TQL) ranked 12 on Glassdoor's Top 25 Companies for Career Opportunities (2012) list.
TQL, the third largest freight brokerage in the nation, is one of only two logistics companies that made the list. Glassdoor.com publicly debuted in 2008 with the goal of bringing greater transparency to compensation and company cultures around the world. TQL coordinates the movement of freight across North America, primarily by arranging full truckload transportation for its customers.
Other companies recognized by Glassdoor their career advancement opportunities include Facebook, Linked In, and Southwest Airlines. Glassdoor's list was based on more than 432,000 company reviews shared by employees on its site over the past year.
TQL employs more than 2,000 people and will hire an additional 1,000 employees over the next three years.
"Our primary hiring need is for entry-level sales professionals," said Kerry Byrne, TQL executive vice president. "We are looking for individuals with a strong work ethic who want to be compensated for their results. Our salary plus commission compensation model rewards people who want to work."
TQL also offers attractive relocations opportunities throughout the nation. TQL has offices in Cincinnati, Dayton, Cleveland, and Columbus, Ohio; Erlanger, Lexington, and Louisville, Ky.; Indianapolis, Ind.; Chicago, Ill.; Charleston, S.C.; Charlotte, N.C.; Fort Lauderdale and Tampa, Fla.; Denver, Colo.; and Austin, Texas. To learn more about job opportunities at TQL, visit http://www.TQLJobs.com.
About Total Quality Logistics
Total Quality Logistics is a privately held company founded in 1997 that connects consumer product and industrial goods shippers with truck operators that transport freight to market destinations across North America. The company's more than 2,000 employees identify the right trucks for particular freight loads, negotiate rates, and ensure on-time delivery. TQL was the first freight brokerage in the nation to introduce mobile freight finding applications to the trucking industry. The company's investment in industry-leading technology and its insistence on honest, straightforward communications has made it the third largest freight brokerage in the nation and a nationally recognized Best Place to Work. TQL's corporate headquarters is located in Cincinnati, Ohio, with satellite offices in 12 additional cities across the nation. To learn more, visit http://www.TQL.com.