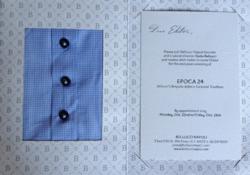 New York, NY (PRWEB) October 18, 2012
Please join Bellucci Napoli founder and creative director Nedo Bellucci and master shirt maker Simone Olibet for the exclusive unveiling of
EPOCA 24
Bellucci's Bespoke defies a Sartorial Tradition
By appointment only
Monday, Oct. 22nd to Friday, Oct. 26th
Please contact us to schedule an appointment between Monday, October 22nd and Friday, October 26th at Palazzo Bellucci to experience our ground-breaking new service Epoca 24.
Like the 1900s Neapolitan aristocrats who came to symbolize the epitome of elegance, the Bellucci Napoli team invites guests to celebrate this historic moment in a unique setting, where you can enjoy champagne and caviar by Calvisius and learn more about Bellucci Napoli's old and new bespoke secrets.
INFORMATION ABOUT BELLUCCI NAPOLI
Bespoke suits of the finest quality...bespoke shirts that fit like no other... fine accessories to complement the garments.... this is Bellucci Napoli. Established by designer Nedo Bellucci, Bellucci Napoli embraces the authentic Neapolitan tailoring style to produce garments of the highest quality, cut and designed to enhance a gentleman's aesthetic and athletic presence. Emphasizing existing qualities and aiming to diminish imperfections, Bellucci Napoli is proud of our talented "old world" tailors whose craftsmanship creates garments that are unrivaled in the market today.
The process of making a Bellucci Napoli bespoke garment consists of multiple, delicate details. The cut is entrusted to expert hands that work without the use of machinery, rigorously focusing on the softness of the sleeve and the suppleness of the shoulder with undivided attention. With details such as buttonholes made with silk thread, opened and hand stitched - the hallmarks of Neapolitan "old school" tailoring. Each cut, every stitch follows precise measurements and culminates in the creation of a suit that is distinctive, superbly crafted and flattering. Style and elegance are the timeless trademarks of a Bellucci Napoli bespoke suit. Today Bellucci Napoli is the established bespoke tailor of custom, handmade clothing of unprecedented quality in the Neapolitan tradition.