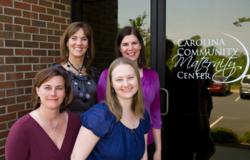 (PRWEB) October 18, 2012
The Carolina Community Maternity Center is hosting a "Cord Cutting" ceremony to showcase the new additions to the facility. The CCMC has been expanded with new offices, two birth suites and two clinic rooms. The CCMC is also celebrating their third year of operation.
The opening ceremony will be taking place on October 20th from 1PM to 4PM. It will be held on site at the Carolina Community Maternity Center located in Fort Mill at Gold Hill and Pleasant, convenient to the Charlotte area. Past and current clients are invited to attend and take a sneak peek at the new additions.
In addition to seeing the new rooms, guest are also invited to participate in a baby clothing swap. Donated items should be clean, stain-free and in gently worn/used condition and include only clothing, blankets and books. The exchange policy is "bring a bag, take a bag". Any leftover items will be donated.
For further information about the event, contact Lori Heffner-Gibson at 803-802-9494 or email at lori@carolinabirth.org. For information about CCMC's services, contact information is provided below.