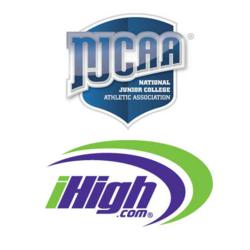 "We look forward to promoting the history and many benefits of the NJCAA and forging new partnerships that will positively impact their student-athletes and member colleges for years to come." - Jim Host, iHigh.com Founder and CEO
COLORADO SPRINGS, Colo. (PRWEB) October 18, 2012
Continuing its mission to advance two-year collegiate athletics, the National Junior College Athletic Association (NJCAA) today announced it has reached a corporate marketing and multimedia rights agreement with iHigh.com, Inc., of Lexington, Kentucky.
"For the past 75 years the NJCAA has been solely responsible for its marketing and multimedia rights," explained Executive Director Mary Ellen Leicht. "In partnering with Jim Host and iHigh.com, I am confident we are building a more robust sports properties platform for the future, one which will enhance the visibility of our member institutions and student-athletes. We look forward to working with iHigh.com to enhance existing NJCAA partnerships while creating new opportunities for the future of the organization."
The agreement calls for iHigh.com, Inc., to be the exclusive manager of "NJCAA Sports Properties," which includes the organization's rights detailing national advertising (print and web), national championship marketing, corporate sponsorships, radio, television, internet as well as the organization's broadcast entity NJCAA TV.
iHigh.com is no stranger to the collegiate sports marketplace. Founder and CEO Jim Host is widely heralded as creating the corporate multimedia bundled rights model for collegiate sports in the early 1980's. That model, which is still driving the industry today, has led to increased revenues for hundreds of four-year colleges and universities. His previous company, Host Communications, Inc., handled all radio, publishing, marketing and corporate sponsorships for the NCAA for over 25 years. Host Communications became IMG College in 2007.
"We are very pleased to broaden our partnership with the NJCAA to encompass their multi-media rights and corporate sponsorships," Host said. "Through our work in developing the flourishing NJCAA TV network over the last year, we have seen first-hand the passion NJCAA fans have for their colleges and the appetite they have for viewing live events whether they watch on their computer, mobile device or smart TV. We are excited to tap into that passion to provide additional opportunities for corporate entities to reach this diverse audience. Two-year colleges effectively serve the needs of traditional and non-traditional students preparing them for their next level, whether it is pursuing further education or taking their skills into today's workforce with top companies around the globe. We look forward to promoting the history and many benefits of the NJCAA and forging new partnerships that will positively impact their student-athletes and member colleges for years to come."
The NJCAA is recognized as the national governing body of two-year collegiate athletics in the United States and has over 500 member colleges across the country. In 2009 the association launched its broadcast entity NJCAA TV and last year partnered with iHigh.com to host the network on its platform at http://www.njcaatv.ihigh.com.
About the NJCAA
Since 1938 the National Junior College Athletic Association (NJCAA) has been the governing body of two-year college athletics, offering athletic and academic opportunities to college students. Now entering its 75th anniversary, the NJCAA is the second largest national intercollegiate athletic organization in the United States with over 500 member schools in 43 states. Each year nearly 60,000 student-athletes compete in one of 28 different sports and the organization sponsors 48 national championship events and nine football bowl games. NJCAA Headquarters has been located in Colorado Springs, Colo., since 1985. For more information visit http://www.njcaa.org.
About iHigh.com®:
iHigh.com®, Inc. is a Global Youth Network providing free Web services to schools, students and other youth organizations around the world. iHigh.com® provides free Web tools that allow sports teams and other groups to post live streaming video, stories, photos, video clips, schedules and other information to a page customized with a group's colors and logos. For more information, go to http://www.iHigh.com.