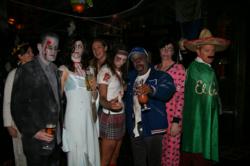 Columbus, OH (PRWEB) October 23, 2012
Fadó Irish Pub & Restaurant in Columbus is hosting Dark Pint Rises Halloween Bash on Saturday, November 3 at 9pm. There will be a huge costume contest for the chance to win $500 in Fadó gift cards for the best superhero costumes!
DJ Puck will be spinning the spookiest hits all night long and the bar will be fully decorated like Gotham City. With no cover charge, the best draft beer in town, and Superheroes everywhere, this is sure to be the freakiest Halloween bash in Columbus.
About Fadó Irish Pub & Restaurant
Fadó (pronounced fuh-doe) Irish Pub & Restaurant was the first Irish pub to be designed and constructed in Ireland and shipped and installed in Columbus. Fadó is distinguished by its genuine Irish hospitality, the quality of its pints, and authentic Irish food and fun.