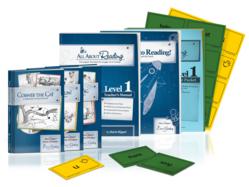 "All About Reading is a very reasonably priced option for an interactive, multisensory reading program that is scripted and easy to use."
Eagle River, WI (PRWEB) October 20, 2012
In her newly released book, 101 Top Picks for Homeschool Curriculum (Grove Publishing, 2012), author and curriculum specialist Cathy Duffy describes All About Reading as "a very reasonably priced option for an interactive, multisensory reading program that is scripted and easy to use." All About Reading is one of an elite group of homeschool reading programs to be included in this popular resource.
Duffy is a noted and respected expert in the homeschooling community, and her thorough understanding on the homeschooling curriculum market is based upon 30 years of experience. She began homeschooling her children in the early 1980s and now shares her knowledge and perspective as an author and speaker. According to Duffy's review, All About Reading "is easy to adapt to each child's needs by selecting among the suggested hands-on activities, choosing their favorite books for read-aloud time, and adjusting the pace and amount of interaction."
The award-winning All About Reading program is based on the Orton-Gillingham approach and the latest research. This complete and comprehensive program comes with lifetime support and a 100 percent money-back guarantee. The All About Reading lessons are multisensory and students use letter tiles, flashcards, fluency practice, comprehension exercises, activities, and 100 percent decodable readers to learn through sight, sound, and touch. The "Open and Go" lesson plans are lightly scripted with no previous teaching experience necessary.
The All About Reading program was created by author and curriculum developer Marie Rippel and is published by All About Learning Press, Inc.
For more information about the All About Reading program, visit http://www.allaboutlearningpress.com/all-about-reading/.