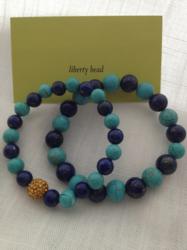 One bracelet will save about 8 lives.
Atlanta, Georgia (PRWEB) October 20, 2012
Liberty Bead, an online jewelry store, has designed a bracelet specifically to assist the Alabama Kiwanis Eliminate Project. The Alabama Eliminate Project is part of the International Kiwanis and Unicef joint venture to wipeout Maternal and Neonatal Tetanus. Russ Beasley, co-ower of Liberty Bead and native Alabamian, is setting a goal to save 5000 lives.
"A baby dies every 9 minuets from tetanus", Beasley said. "It is a horrific slow death where any light, sound, or touch can send the infant into convulsions that tear the muscles and break bones. Instead of coddling the newborn, these infants are left in a dark room to die." The vacinne to save one life is US $1.80. Liberty Bead is donating $15 of each bracelet to Alabama Eliminate, which should save about 8 lives per bracelet.
Utilizing the Eliminate Project colors of dark and light blue, Liberty Bead chose denim Lapis and Turquoise howlite gemstones strung on a stretch wire for adjustable fit. It is available through the Liberty Bead website and Facebook store.
"Every charity has a plastic bracelet, which doesn't really look that professional or dressy", Beasley states. "The great thing about the gemstones is that they are universal enough to wear with jeans, a suit, literally anything."
Liberty Bead an Atlanta based business specializes in hand made beaded bracelets. The mission is "Liberty of Expression...Liberty from Limitations". CO-Owners Russ Beasley and Jeffrey Todd WIlliams are dedicated to making the world better helping people look good and feel great.
For more information on Liberty Bead please visit our website or contact Russ at Russ(at)libertybead(dot)com. For more information about Kiwanis Eliminate Project please see http://www.TheEliminateProject.org or contact Alabama coordinator, Tammy Driskill at tsdriskill(at)aol(dot)com.