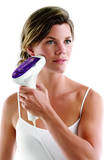 Seattle, WA (PRWEB) October 18, 2012
DNA Response, Inc., provider of turnkey multi-channel e-commerce, on-line marketing and order management solutions, announces a major promotion for its client, Home Skinovations Ltd., makers of the Silk'n line of home beauty devices, including the Flash&Go permanent hair removal device.
On October 17, 2012, The Silk'n Flash&Go was featured on the SUZANNE Show on Lifetime Television, hosted by celebrity Suzanne Somers. For a limited time, shoppers are being offered a 20% discount on Flash&Go when they type the promotion code SUZANNE in the shopping basket when they visit shop.silken.com.
According to Meta Circhansky, Executive Vice President of the SUZANNE Show, "We are glad we could share with our audience that it is now possible to permanently remove hair in the privacy of their homes instead of expensive doctor or spa visits. Suzanne Somers was glad to be able inform her viewers of an affordable alternative for hair removal by using the Flash&Go from Silk'n."
Silk'n® Flash&Go is a pulsed light hair removal device manufactured by Home Skinovations , the leader in innovative skincare and light-based technology.
Silk'n® Flash&Go is an affordable solution for people who want to achieve permanent hair removal quickly in the comfort of their home and remove hair in smaller, sensitive and targeted areas. It utilized FDA cleared light-based technology that has been used in clinics for over 15 years and has proven safe and effective. It is much more affordable than other permanent hair removal treatments, has compact and highly ergonomic design and has been recommended by plastic surgeons and dermatologists.
One of the most distinctive features of Silk'n® Flash&Go is the skin color sensor. This feature is not available on other comparable devices and it measures the complexion of the treated skin to ensure that pulsed light is emitted only on suitable skin tone.
About the Suzanne Show:
The SUZANNE Show on Lifetime Television ushers in a new day for morning talk! This one-hour weekly show invites you to join Suzanne Somers, her expert guests and celebrity friends for conversations unveiling ways you can achieve an ageless and more fulfilling life.
About Home Skinovations:
Home Skinovations LTD is a private company with a mission to develop, manufacture and sell the safest and most effective home‐use beauty devices and products. The Home Skinovations team of skilled scientists, engineers and business executives has over 25 years of introducing innovative light‐based products to the global aesthetic devices market. Home Skinovations manufactures Silk'n beauty products, including SensEpil, FaceFX, and Blue products for at home permanent hair removal, anti‐aging and acne treatments. The Silk'n family of products has surpassed one million treatments worldwide in over six continents and continues to grow. Silk'n has been featured on various TV programs such as Good Morning America, Today Show, Rachael Ray, The Doctors, and numerous magazines including O Magazine, Allure, Vogue and more
About DNA Response: DNA Response, Inc., (DNA) provides turnkey e-commerce, online marketing, and order management services to companies in the $300 Billion direct response market. DNA clients sell products direct to consumers using TV, radio, print catalogs, web and mobile as their sales channels. DNA's ECOM2™ platform utilizes state-of-the art cloud computing technologies and services to improve operational efficiency by reducing transaction costs, eliminating credit card declines, and lowering order cancellations and product returns, while simultaneously increasing online revenue for our clients. DNA provides universal order management for processing orders in real time from all the sales channels with full visibility to the business for the clients. DNA generates incremental revenues and helps build a brand for our clients by providing comprehensive e-commerce and online marketing services.