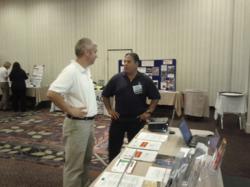 After you strip away the fictional elements of the Zombie Apocalypse, there are many factual elements to take seriously.
Newmarket, NH (PRWEB) October 22, 2012
Ralph Huber, President of PHI Management Solutions Inc., announced the publication of their latest BLOG entry, entitled Five Reasons to Prepare for the Zombie Apocalypse. Huber said that when the idea was first proposed at a company think tank session they all thought it was a joke. But, as they peeled back the fictional elements of the zombie mythos they soon realized that the factual elements were actually quite serious.
Gill Colon, the Senior Vice President at PHI, explained that at the heart of the current zombie stories is a viral pandemic. He also added that if compare the symptoms of the Rage virus, from the movie "28 Days Later," to the Rabies Virus you see a lot of similarities. He also explained that viruses can spread quickly and kill thousands. The H1N1 virus is a good example. Although the outbreak was fairly mild in 2009, a form of the same virus, according to the Centers for Disease Control, killed an estimate 50 million people during the Spanish Flu epidemic of 1918. So viruses are serious business.
Huber said that we also considered that some drugs can also induce Zombie like behavior. For most, "bath salts," come to mind but drugs like Phencyclidine (PCPs) became popular for recreational use in the late 1960s. In fact, PCP was nick named "Zombie Dust" because of its effects.
Another reason why the zombie apocalypse is good to prepare for is that zombies are topical and considered cool. PHI's marketing team report that their brand of zombie survival kit sells 10 to 1 over their Household disaster Preparedness Kits. The number one reason cited by customers is that "they are cool." According to Jim Moody, Vice President of Emergency Management Training, we sell a significant number of kits to people who what to give them as gifts because they are a fun way to prepare for emergencies. And, in the case of college students, they are not as likely to just get thrown away either.
PHI Management Solutions, Emergency Management Division, offers many different home and institutional products for emergency planning. They also have free downloads and information links designed to inform and assist individuals, families, organizations and businesses prepare for emergencies. Our team is composed primarily of veterans with over 90 years of combined service. Each member of the team has proven themselves through combat command and has extensive experience in disaster response and planning. Team members have commanded response forces and/or participated in several disaster responses to include the 2005 crash of a civilian airliner in Afghanistan, Hurricane Katrina 2005, Southwest New Hampshire Flooding in 2005, New Hampshire Statewide flooding in 2006, Epsom NH tornado response in 2007, the 2008 New England Ice Storm, 2009 Anthrax Response in Durham, NH, the 2010 Wind Storm, Hurricane Irene in 2011, and the October 2011 New England Snow Storm.