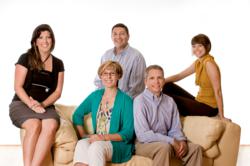 Our relentless focus on exceptional experience and the highest quality workmanship in the area has fueled our growth. Matt is a skilled carpenter with a careful eye, whose attention to detail can only further compliment our services.
Reston, VA (PRWEB) October 19, 2012
Hot on the heels of their last new hire in June (project manager Tom Reineberg), Reston-based design/build firm Synergy Design & Construction has made yet another addition to their already talented team of professionals.
With at least three construction projects in full swing and more currently under design, the addition of lead carpenter Matt Offerman to the Synergy family couldn't have come at a better time. "Although it's always important to control the rate of our company's growth, it's equally vital to know when you've found the right team member that can help you take your business to the next level, which is why we knew Matt was the perfect fit," says Mina Fies, Synergy founder and CEO.
Like Reineberg, Offerman has an extensive background in custom renovations. Before relocating to the area with his family, Matt spent the last seven years with two high-end custom builders in New Jersey. After his wife accepted a promotion to a new position here in northern Virginia, Matt was looking for a firm that shared his focus on quality, and subsequently found Synergy D&C's job posting. After interviewing for the position, it was clear to the team that both philosophies and personalities were perfect fits.
In addition to expanding Synergy's workforce and quality of services on existing projects, hiring Matt has also helped the company position itself for a strong upcoming year – one that promises to be its most successful yet. "Our relentless focus on providing clients an exceptional experience while producing some of the highest quality workmanship in the area has fueled our growth, says Mark Fies, COO. "Matt is a skilled carpenter with a careful eye, whose attention to detail can only further compliment our services."
About Synergy Design & Construction, Inc.:
Synergy D&C is an award-winning Class A General Contractor serving Virginia, Maryland, and the District of Columbia. Their mission is to be the most trusted renovation and design firm in the industry, committed to excellence in customer service and innovative strategies for remodeling success. Though Synergy D&C launched at the height of the recession, they have not been deterred from garnering recognition through several Master Design and Contractor of the Year awards, and a project feature on HGTV's "Bang for your Buck."