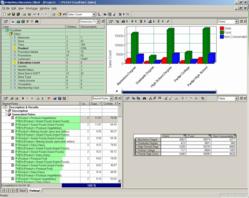 "PolyVista is an emerging player in the US market," said Peter Edwards, President, ACG. "This relationship allows us to expand into the business analytics market, enhances our solution offerings, and introduces our customers to new ways to derive insight.
Northbrook, IL (PRWEB) October 22, 2012
Decision Systems Inc. (DSI) is announcing that ACG is now a reseller of PolyVista Discovery Client for IBM Cognos TM1.
PolyVista for IBM Cognos TM1 is for sales and marketing analysts who have given up on SAS because its' too complex and costly. PolyVista is a self-service, reasonably priced SAS alternative which enables analysts to uncover new insights into customers and markets first hand. Unlike SPSS, you don't need database and quantitative experts because PolyVista works with IBM Cognos TM1 and provides wizard-based analytics integrated with a familiar pivot-table interface.
"We are very pleased to be working with ACG as they are the "go-to" experts for organizations interested in implementing IBM Cognos TM1 based solutions on the east coast" states Reid Karabush, President of Decision Systems Inc.
ACG will be at the IBM Information on Demand Conference 2012 held in Las Vegas Nevada October 21-25, 2012 and will be showing PolyVista for IBM Cognos TM1 in the EXPO Center booth 1201.
PolyVista for IBM Cognos TM1 represents the seamless integration of multiple analysis techniques all within a common user interface. By seamlessly integrating the rich functionality of On-Line Analytical Processing (OLAP) directly with interactive 2D/3D data visualization and the automation of Discovery Algorithms (i.e. data mining), PolyVista provides a "discovery focused" experience for the end user. The PolyVista Discovery Client also integrates text mining algorithms designed to enable customer sentiment analysis by leveraging unstructured text or "big data". There are numerous sources for this growing pool of unstructured data such as customer email, call center notes, satisfaction surveys, claim forms or social networking sites.
Users of PolyVista include Southwest Airlines, Compaq / HP Computers, Lenovo, Trane and others. For additional information about PolyVista for IBM Cognos TM1, contact Decision Systems at 1-877-447-8766 info(at)decisionsystems(dot)com or Application Consulting Group at 1-973-898-0012 info(at)acgi(dot)com or visit http://www.decisionsystems.com/polyvista.htm or http://www.acgi.com
About Decision Systems Inc. (DSI)
Decision Systems Inc. is the distributor of PolyVista for IBM Cognos TM1 and provides performance management, advanced analytical solutions and data mining, to a variety of industries. Decision Systems was founded in 1989 to meet the expanding need for consultants in these fields, and has been instrumental in introducing and customizing technology solutions for clients ever since. Current clients include the Major League Baseball Players Assoc. (MLBPA), IPEX Inc., and others.
About Application Consulting Group (ACG)
Founded in 1987, Application Consulting Group (ACG) specializes in providing business solutions to Global 1000 companies, primarily in the areas of Sales, Finance, Marketing, and Manufacturing. Our Business Solutions group is headquartered in Parsippany, New Jersey. Our staff consists of technical experts and business professionals who have acquired extensive functional and industry related experience. ACG services spans every stage of the project life cycle from strategy, design, implementation to support.
TM1 is a registered trademark of IBM Corporation | PolyVista is a registered trademark of PolyVista Inc.