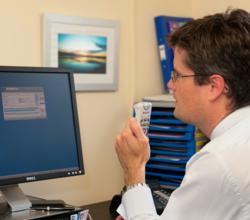 We have consciously developed our software to make it as easy as possible for our clients to improve their workflow and we're delighted with the positive feedback we're receiving
(PRWEB UK) 19 October 2012
Research* conducted on behalf of Lexacom Digital Dictation has shown 98 per cent of GPs, practice managers and medical secretaries feel under pressure to deliver more in less time in the current economic climate. Over nine in every ten respondents feel patients are demanding a faster turnaround.
Lexacom Managing Director, Dr Andrew Whiteley, said, "it is clear from the research that people are feeling the pressure to be more efficient while still improving services."
Lexacom Digital Dictation is designed to help clients operate more efficiently, saving time as well as improving overall service. Audits undertaken by Lexacom customers show that digital dictation can improve the time taken to process dictations by between 50 and 80%.
Lexacom's system speeds up workflow so that reports, referrals and meeting notes can be submitted more quickly, ensuring patients or clients spend less time waiting. With Lexacom, dictations are prioritised and sent to secretaries as soon as the recording is finished, allowing urgent dictations to be transcribed immediately. By making it easy for professionals to record dictations instantly, the risk of important information being missed is reduced, while the improved sound quality helps ensure the transcription is accurate.
"We have consciously developed our software to make it as easy as possible for our clients to improve their workflow and we're delighted with the positive feedback we're receiving," Dr Whiteley added.
Lexacom provides a free 30 day trial so clients can try the system and make sure it works effectively within their organisation before making any investment. For further information, call 01295 738011 or email sales(at)lexacom(dot)co(dot)uk
Notes to editors
Lexacom first pioneered digital dictation software in 1997 and it is now used to create over 10 million documents a year by professionals in the healthcare, legal and financial professions.
The software enables authors to flag the importance of a dictation, while admin teams can immediately see both the priority and length of the dictation and can plan their workload accordingly.
Lexacom provides a flexible service which can be tailored to individual clients. They offer a free, no-obligation 30 day trial to all new customers and provide excellent support through their UK technical team.
*The research was undertaken among approximately 400 healthcare professionals by Firebrand Insight in May/June 2012.