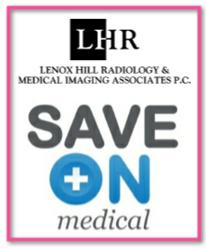 We hope that providing a more than 50% discount on our screening mammograms will encourage women to schedule their appointment and take a vital step towards better breast health
New York, NY (PRWEB) October 19, 2012
New York patients can get digital mammograms for less than half the normal price during October and November with Save On Medical provider Lenox Hill Radiology & Medical Imaging Associates, P.C. in New York City. Lenox Hill Radiology has six convenient locations throughout the area, making deeply discounted mammograms available to non-insured patients in all boroughs.
Lenox Hill Radiology, a designated Breast Imaging Center of Excellence, is dedicated to promoting Breast Cancer Awareness. 1 in 8 women will develop invasive breast cancer over the course of her lifetime. The American Cancer Society recommends that all women age 40 and older should have a screening mammogram every year. Early detection is still your best protection.
John Melnick, M.D., Medical Director of Lenox Hill Radiology commented on the promotion saying, "We want to make sure that patients are booking their annual mammograms while it's fresh in their minds during National Breast Cancer Awareness Month. We hope that providing a more than 50% discount on our screening mammograms will encourage women to schedule their appointment and take a vital step towards better breast health."
Additionally, for all procedures booked online through their self-pay portal, Save On Medical will be donating $5 to Living Beyond Breast Cancer, which is a group dedicated to offering programs and services to individuals affected by breast cancer.
The Lenox Hill locations include: Lenox Hill Radiology & Medical Associates P.C., Park West Radiology, Brooklyn Heights Imaging, Regency Medical Imaging, Madison Avenue Medical Imaging, and Long Beach Diagnostic Imaging. These facilities offer a number of diagnostic imaging services in addition to digital mammography including MRI, Open MRI, Fluoroscopy, PET/CT, CT, Ultrasound, Bone Densitometry, Digital X-Ray, and Breast Biopsy services.
To start booking affordable services at Lenox Hill Radiology with the Save On Medical lowest cash pay prices available, simply visit the Save On Medical homepage and start searching for the service you need in your region.
About Save On Medical
Save On Medical is a resource for patients to shop for and book health care procedures. It enables physicians to reach patients in the popular price-sensitive market. Patients are able to search for medical services by price, quality and convenience with the help of the SOM Docometer, comparing average costs of services in their region. Save On Medical allows for price and quality transparency in the health care market, which enables the patient to decide what is important to them when it comes to their care. In the same way that travel sites such as Hotels.com and Travelocity work, Save On Medical provides the patient with options and helps them to easily schedule appointments and pay for procedures stress-free and at a fraction of the price.
###