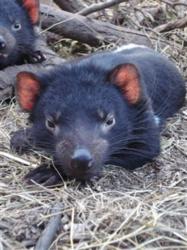 (PRWEB) October 19, 2012
Goway Travel, a leading Australia travel specialist, is proud to announce the sponsorship of a young Tasmanian Devil joey at Devils@Cradle, a world class wildlife conservation facility at Tasmania's premier wilderness destination – Cradle Mountain. Visitors to Devils@Cradle can view Tasmania's three carnivorous marsupials from the comfort of the Visitors Centre or wander through the sanctuary on a personalised guided tour ensuring a close up encounter with a Tasmanian devil.
To celebrate, Goway is inviting North American residents to submit a suggested name for the joey. The successful submission will be awarded a gift basket overflowing with Aussie treats!
This devil will join Goway's expanding family of sponsored animals; Matilda, Walter and Kiah (koalas at Rainforestation in Cairns and two kiwi birds in New Zealand, Jackson and Darwin (kiwi birds at Kiwi Encounter in Rotorua).
To enter the contest, visit the Devil page at Goway.com/devil or enter on Goway's Facebook page at facebook.com/gowaytravel. The contest is open until 15 December, 2012. The winner will be selected and announced in the first week of January.
Goway specializes in custom itineraries for independent and group travel. Since 1970, Goway has provided unforgettable travel experiences to some of the world's most exotic and interesting destinations. Goway's destinations include Australia, Asia, Africa, the Middle East, Latin America, Antarctica and idyllic tropical islands. For a free trip quote, visit http://www.goway.com.