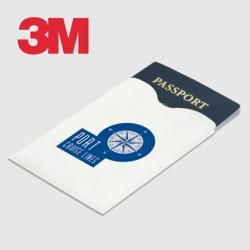 Rapid City, SD (PRWEB) October 22, 2012
Baslercoinc is now offering 3M custom printed data protection sleeves. This unique product guards personal information electronically stored on passports, credit cards, smartcards and other such devices from non-contact theft. This is an excellent handout for anyone and everyone who carries these items.
This new addition to Baslercoinc's product line is a good way for companies to show they are proactive in protecting the welfare and personal information of their clients. With data theft on the rise this is a useful and cost effective advertising piece for companies looking for a unique way to promote their business.
These sleeves are a durable, waterproof cover with flexible protective shielding that can be imprinted in one to four colors. "This is a great top of mind awareness tool and a fantastic way to keep your company's name, logo and contact information in front of customers wherever they go." says Eric Graves, National Sales Manager at Baslercoinc. For more information on this promotional product, please visit us at http://www.baslercoinc.com/Products-Data_Protection_Sleeves.html
These wonderful new data protection sleeves from Baslercoinc are a great marketing piece because customers will see them every time they use their card, keeping the company name fresh in their minds.
Baslercoinc 3M Post-it® products include regular and die-cut pads, cubes, flags, pens, highlighters, organizers and dispensers. Baslercoinc also provides a variety of unique options such as custom top sheet printing, alternating copy (rotating throughout the pad), second side printing, quick response on large quantity orders and custom sizes. To review additional products, visit us at http://www.baslercoinc.com/