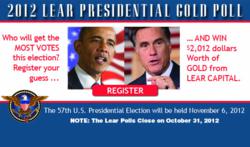 Santa Monica, CA (PRWEB) October 18, 2012
After one Vice-Presidential debate and a second Presidential Debate, Lear Capital's Presidential Gold Poll (http://www.learpresidentialpoll.com) has a clear winner emerging in the 2012 Election. The nationwide poll not only awards $2,012 worth of bullion but also offers an instant download of Lear's newest publication "The Great Fiscal Cliff and $10,000 Gold."
The second Presidential debate or the "Heat Up at Hofstra" on Long Island, New York again pitted President Barack Obama against the former Governor of Massachusetts, Mitt Romney. The two men clashed on jobs for new graduates, energy, Libya, taxes, health care, the deficit, China, equality for women in the workplace, immigration, and gun control. For 90 minutes both men interrupted, moved about the stage and entered each other's personal space. It was by far the most tension-filled debate to date. President Obama was clearly trying to make up lost ground from a lackluster performance in the first debate, while Mitt Romney remained on the attack.
When answering a voter that asked why the President should earn his vote a second time Obama stated, "We've created five million jobs, and gone from 800 jobs a month being lost, and we are making progress. We saved an auto industry that was on the brink of collapse." Governor Romney offered a strong retort with the following, "The middle class is getting crushed under the policies of a president who has not understood what it takes to get the economy working again. He keeps saying, 'Look, I've created 5 million jobs.' That's after losing 5 million jobs. The entire record is such that unemployment has not been reduced in this country."
The President re-stated his belief that Governor Romney's policies will provide massive tax cuts to the wealthy which will ultimately hurt the middle class. While Romney countered that many of the wealthy are job creators and claims that America must remain an attractive place for entrepreneurs and small businesses to invest and grow.
The President countered, "I believe in self-reliance and individual initiative and risk takers being rewarded. But I also believe that everybody should have a fair shot and everybody should do their fair share and everybody should play by the same rules, because that's how our economy's grown. That's how we built the world's greatest middle class."
Governor Romney contrasted the President's vision by calling it "trickle-down government" and constantly stated and re-stated that government is not the solution to our economic woes. He also maintained that taking money away from job creators, hiring more government workers, raising taxes, and increasing regulations has never worked anywhere as an economic remedy.
Some experts are claiming that the 2012 election could possibly be the closest race in presidential history. Thousands have already come to Lear's electronic polling center to register their "guess" and a chance to win Election Gold. The Lear Presidential Poll (http://www.learpresidentialpoll.com) will reward the closest statistical guess of the final vote count with $2,012 worth of gold. There is a Second Prize also available awarding a Gold American Eagle Bullion coin. And "The Great Fiscal Cliff and $10,000 Gold" is a free download only available on their voting site. This informative booklet addresses the impact of the current political stalemate in Washington as well as monetary policy, the coming economic contraction, and provides a game plan to help survive it all.
The two Presidential candidates will debate again on Monday, Oct. 22th. The Presidential Gold Poll (http://www.learpresidentialpoll.com) will close at MIDNIGHT on October 31, 2012 and results will be announced on Lear Capital's web site on or before November 30, 2012.