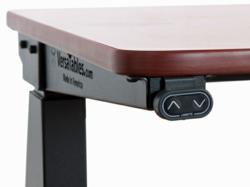 Los Angeles, CA (PRWEB) October 23, 2012
Versa Products, Inc. announced today that they have outfitted their entire sales office with ergonomic electric lift tables and task chairs. The new furniture will provide the opportunity for a sit-stand workflow, which has been proven to provide many health benefits. The new furniture acts as testament to the company's commitment to provide maximum comfort, efficiency, safety, and ease of use in the workplace. It is meant to provide employees with a more flexible environment.
"We believe that by providing our employees with ergonomic furniture, we are not only creating a better workspace for them, but also proving our dedication to the concept of ergonomics at work," said John-Paul Nelson,Director of Business Development at Versa Products Inc.
Many studies have shown the importance of ergonomic spaces. Productivity and contentment are increased when a space is optimized to its full potential. In particular, it has been proven that standing while working can actually decrease the amount of physical stress in the body. It also provides increased circulation and blood flow as well as better range of movement. The ability to switch between postures and positions can even prevent blood clots, lower bad cholesterol, and fight fatigue.
"We want to set an example for other offices out there – ergonomics is important," said Nelson. With the new electric lift tables and task chairs, employees will be able to raise or lower a table depending on their needs, simply by pressing a button. The task chairs are also adjustable, and make the transition between sitting and standing effortless.
Versa Products, Inc. hopes that the new updates to the workplace will provide an improved, more pleasant environment for their staff members, keep their staff healthier and happier, as well as provide the means for a more productive workflow.
Versa Products, Inc. was founded on the basic American principle of producing high-quality products at a great price. Now, eco-conscious methods combine with smart design taking this thriving manufacturing company to the next level. Simple is always better. Offer high-quality furniture at outstanding prices. Whatever else may be happening with the economy or in the market, Versa Products will always remain rock solid in its commitment to producing the best quality furniture at the best value and with a lifetime guarantee.