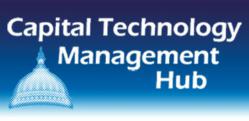 Fairfax, VA (PRWEB) October 19, 2012
The Capital Technology Management Hub (CTMH) will host its Fourth Annual Technology Startup Challenge on Tuesday evening, November 13th at the Mason Inn Conference Center, 4352 Mason Pond Drive, on George Mason University's Fairfax campus, at 6 p.m. Presentations will begin at 7 p.m.
In the past three years, more than 20 aspiring entrepreneurs and startup companies have taken advantage of this opportunity to present their business plans to a panel of local business executives and venture capitalists. Past competition winners have included the first online auction site for high-end designer wedding dresses and accessories and an innovative cell phone-based taxi request service. Several competition participants have received venture capital commitments as a result of their Startup Challenge participation.
CTMH invites startup entrepreneurs to enter the competition by submitting a one-page executive summary by October 26th and a simplified business plan (no more than four pages) by November 2nd. Entries should be submitted to jimlockett(at)captechmanhub(dot)org. Startups that are currently operational will be given preference in judging. Prizes will be awarded to winners of the competition. Presentations will be approximately 15 minutes long.
Among the company speakers at the event will be Leah Gabriel Nurik, founder and principal of Gabriel Marketing Group, a leading technology marketing company in the DC area. Leah will be giving a short presentation on tips for how to brand, identify key targets and market your tech startup.
The event will follow the successful audience participation format used over the past three years with the winners chosen by the audience via real time text messaging. To register to attend the Challenge, visit the CTMH website at http://capitaltechnologymanagementhub.org.
About The Capital Technology Management Hub
The Capital Technology Management Hub is a leading networking organization for technology management professionals in the Washington metro area. The group provides a forum where professionals can effectively network, learn, recruit and search for new career opportunities. Technology management professionals and associates are either decision-makers and/or decision-influencers in leading companies. CTMH provides a forum where they can gather and share information on a regular basis. The group meets the second Tuesday of every month. More information and details for the location of meetings can be found at http://capitaltechnologymanagementhub.org.
The Startup Challenge is sponsored by George Mason University, School of Management Technology Management Program. http://som.gmu.edu/masters-in-technology-management/.
###