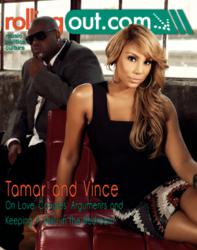 Vince and I are really good friends.
Atlanta, GA (PRWEB) October 20, 2012
Rolling out's music editor Amir Shaw has a candid interview with Vince and Tamar Herbert, stars of the We tv reality series "Tamar & Vince." During an interview in Atlanta, the pair opens up about love, disagreements, keeping it spicy in the bedroom and staying healthy.
"Vince and I are really good friends and we keep our lives and the lines of communication open," offers Tamar.
On Tamar's music career, Vince shares, "You don't want to throw something together ... that's not representing [me] or her. I want her to really have a good shot at what she's trying to accomplish."
For reality TV fans, Vince and Tamar have proven that even though marriage can be unpredictable, one thing is constant: their love for one another.
"On this collaboration with photographer DeWayne Rogers, we softened the reality star's 'outsized personality' by bringing out the poised, playful and adoring wife and partner that she really is," shares Shaw on providing creative direction for the shoot.
Visit rollingout.com for the one-on-one interview with the music and reality TV couple. Be sure to check out their exclusive photo shoot and behind-the-scenes video by DeWayne Rogers.
ABOUT rolling out MAGAZINE/MEDIA
Rolling out, the nation's largest free urban weekly, is a digital and print magazine that focuses on the black experience in response to entertainment, politics, fashion, culture, sports and lifestyle points of interest. Headquartered in Atlanta, rolling out is positioned as the voice for the African American experience, using its newspaper as a platform in the marketplace to express urgency for education reform, and to document entrepreneurial endeavors and other relevant issues in the Diaspora.