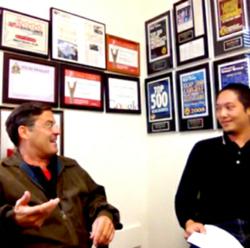 I see Sheet Music Plus expanding beyond being the best place for a musician to order sheet music to actually fulfilling a wide variety of needs for the music community.
Emeryville, California (PRWEB) October 23, 2012
The chore of trekking around town, and thumbing through catalogs to find a songbook or sheet music title is a distant memory of the past. Sheet Music Plus, the premier destination for online sheet music, celebrates fifteen years in business. Since it began in 1997, Sheet Music Plus has diligently worked to offer musicians an unsurpassed selection of music. Today, Sheet Music Plus is a top online destination for musicians, offering an unrivaled selection, convenient delivery of sheet music, and knowledgeable customer service support from a loyal team of experienced musicians. The staff at Sheet Music Plus looks to the future with an eye toward innovation, community building, and the expansion of sheet music for a variety of instruments.
Sheet Music Plus currently offers over 800,000 songbooks, scores, tabs and methods. Maintaining the world's largest selection of sheet music requires teamwork, organization and innovation. Anne Madsen, Catalog Manager, exemplifies this point. "My team and I currently work with product information sent to us in English, German, French, Dutch, Spanish, Italian, Russian, Norwegian and Finnish. Bringing order, clarity and consistency across such a broad range of musical styles, classification systems, and languages is a huge undertaking," said Madsen. Madsen has been an employee with Sheet Music Plus for six years. "I think the best part of my job is getting to work with people who really want to be great at what they do, and are striving to find the best ways to do things. From our shipping, fulfillment, and operations, to our customer service, to our IT teams and the marketing crew -- we are all trying to work in the best ways possible and make the customer experience the best it can be," said Madsen.
Brendan Lai-Tong, Assistant Marketing Manager, echoes Madsen's sentiments. "What I enjoy the most about Sheet Music Plus is that it is a very closely knit team. I would say that this is likely one of the reasons why Sheet Music Plus has been so successful over the years," said Lai-Tong.
Sheet Music Plus is growing a music community within an existing community of passionate musicians. The commitment and dedication of its employees can be seen in long time staffers such as Charles Moehnke. Moehnke joined the staff of Sheet Music Plus eleven years ago after graduating with a Masters degree in bassoon performance. As the Search Engine Marketing Manager, Moehnke is keenly aware of the importance of providing customers with timely tools and adapting to changes. "I see Sheet Music Plus expanding beyond being the best place for a musician to order sheet music to actually fulfilling a wide variety of needs for the music community. We've already started down this path with our new self-publishing feature and hope to expand to include more ways musicians can interact and grow by using the resources Sheet Music Plus will provide. I hope to see Sheet Music Plus grow to become an integral part of every musician's life in a way that truly enriches the music community," said Moehnke.
Looking to the future with a belief that music is an integral part of life is the driving theme and motivation behind the team of dedicated professionals at Sheet Music Plus. Expanding the store's selection, and supporting a community of musicians worldwide are key goals to continued success.
ABOUT SHEET MUSIC PLUS
Sheet Music Plus is located in the San Francisco Bay Area, and delivers music worldwide. Sheet Music Plus began in 1997 with the purpose of offering musicians a full spectrum of sheet music, with fast delivery and trained musicians offering customer service. Today, Sheet Music Plus is the home of the world's largest sheet music selection and a source for music books, music sheets, songbooks, music scores, choral sheet music and more. From piano sheet music to flute sheet music, choral sheet music and octavos to guitar tabs, Christian sheet music to Jazz sheet music, and beyond, there are more than 800,000 titles to choose from including music from more than 1,000 publishers, and all major European publishers.