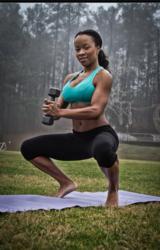 The Optimal Recovery Bar, an all-natural bar that I formulated, is perfect for you to consume after a workout.... Eating healthy is essential for optimal health...
(PRWEB) October 20, 2012
Optimal Nutrition Care has launched its first product, an all-natural whey protein isolate bar called the Optimal Recovery Bar for the benefit of users. The slogan for the company is: A Healthy Lifestyle to Stick to for a Lifetime.
Today there's a growing emphasis on fitness amongst people and they are following workout routines to get into the shape of their lives. According to fitness model Aisha Price, a health and fitness specialist, optimal recovery after the workout is equally important and it can only be attained through a healthy combination of carbohydrates and proteins replenished into the system. Carbohydrates ensure that glycogen levels are restored and one doesn't feel fatigue while proteins build muscle fibers and offer relief from injuries and soreness.
And that's where this product designed by Aisha Price comes in. Tasting like a chocolate brownie, this delicious product has organic ingredients that are just perfect to have after an intense workout at the same time it contains fibers that help people achieve their weight loss goals.
"The Optimal Recovery Bar, an all-natural bar that I formulated, is perfect for you to consume after a workout or to have handy around for a quick snack. It is also packed with fiber that will assist in reaching your weight loss goals. Loving Your Body means putting tasty but nutritional things inside! Eating healthy is essential for optimal health and well-being," as explained by Aisha Price.
She used the ingredient whey protein isolate as a dietary supplement for various health claims. Whey protein is a great source for branched chain amino acids, which are used to fuel working muscles and stimulate protein development, making the bars great for many uses including speeding recovery and adaptation to exercise. The Optimal Recovery Bar is one of the best whey protein supplements because it is a high protein snack that will help you build muscles.
Aisha Price, who has graced several magazines and calendars, has created the formula for this product, which says a lot about its authenticity. She has worked with several clients creating personalized workout and diet plans for them. In many regards she's a voice of authority when it comes to diet and nutrition, which is at the heart of this product too, which has been created to meet her own high standards.
Optimal Nutrition Care is a US based company that is in the process of developing a business method patent for the brand and other subjects related to nutrition for the benefit of dieticians and nutritionists all over the world. The owner of the company also owns Extra NutritionCare Trademark.
This Nutrition Bar can be shipped worldwide and one can find out more about it by visiting the website http://www.optimalnutritioncare.com or writing to office (at) optimalnutritioncare (dot) com.
Optimal Nutrition Care will have a business listing on Worldlink-Now's website, http://www.worldlink-now.com where you can visit them as well under the Nutrition Internet Companies category.