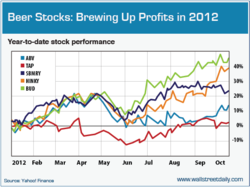 Baltimore, MD (PRWEB) October 19, 2012
Wall Street Daily today announces the publication of new research that shows Americans' thirst for beer is once again on an uptick. Coming after a three-year downtrend, beer consumption is again on the rise domestically, adding to already surging demand for beer coming from international markets.
In his article, Wall Street Daily's Chief Investment Strategist Louis Basenese provides financial analysis of the five largest publicly traded beer stocks that are benefitting from this trend . Four of these five stocks have seen double-digit gains so far in 2012, while one stock is a notable laggard. Basenese explains why that company is facing unique headwinds that its competitors are not.
According to Basenese, beer stocks that have risen the most dramatically so far this year have been driven upward primarily by increasing demand from nations of Latin and Central America, Africa, and East Asia. The year's best-performing large-cap beer stocks have the most exposure to these fast-growing markets.
Text of the full article is available here:
http://www.wallstreetdaily.com/2012/10/18/beer-stocks-is-a-fresh-opportunity-brewing/