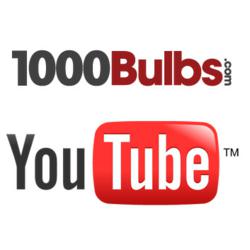 High-production corporate videos have a place on our channel, but when customers want to learn how to do something, they want to watch something simple, short, and approachable.
Garland, TX (PRWEB) October 23, 2012
In today's media landscape, populated by quick sound bites and short, to-the-point messages, video stands out as an increasingly effective tool to reach consumers.1000Bulbs.com, the Internet's largest lighting retailer, quickly realized this when it launched its popular YouTube lighting channel in 2006. Now boasting nearly 70,000 views, the channel has been an enormous success with 1000Bulbs.com's growing customer base.
YouTube is not the company's first foray into dynamic media. 1000Bulbs.com was among the first lighting retailers to include a library of PDF specification sheets and product brochures in an easily accessible format on each product page. Last year, the retailer launched hugely successful product reviews, bringing an unprecedented level of customer interaction to their store. The 1000Bulbs.com Lighting Blog has also been a great success, allowing the company to quickly address popular lighting topics and spark conversations with readers and potential customers. Kim Pedersen, the CEO of 1000Bulbs.com even refers to the website as the web's "lighting library," a sentiment often repeated by the company's customers.
The offerings on the channel are as diverse at the products at 1000Bulbs.com. The award-winning company specializes in offering low-cost light bulbs as well as lighting fixtures and Christmas lights but also offers cutting-edge LED and fluorescent lighting and a vast array of electrical components. Their channel touches on nearly every product line, with its most popular videos including a customer submitted tutorial on building a Deadmau5 costume head and an instructional segment on RGB tape light.
Though the company's YouTube channel covers all areas from corporate commercials to product information videos, a particular standout is the company's hands-on DIY lighting tutorials. A video on how to build an antique pendant lamp has had nearly 2,000 views since the company posted it six months ago. Tutorials on assembling a table lamp and creating lighted Halloween decorations are similarly popular. A 1000Bulbs.com marketing representative attributes their popularity to their conversational tone and detailed, yet brief explanations: "High-production corporate videos have a place on our channel, but when customers want to learn how to do something, they want to watch something simple, short, and approachable." The company reinforces these ideas not only on the channel, but also on their blog and especially on their DIY project page.
Like the company's Facebook and Twitter pages and especially their product reviews and blog, the YouTube channel is a valuable source of customer feedback. Users of the video channel frequently ask questions in the channel's comments area, which are promptly answered by 1000Bulbs.com staff. Upcoming developments include expanding the list of covered products and continued emphasis on DIY projects. A special focus on customer-submitted videos is also a possibility.
About 1000Bulbs.com: 1000Bulbs.com is an award-winning Internet-based lighting retailer. The company offers everything from simple, household light bulbs to cutting-edge specialty lighting systems. Nationally recognized for growth, innovation, and customer satisfaction, 1000Bulbs.com is an influential force in the lighting industry.