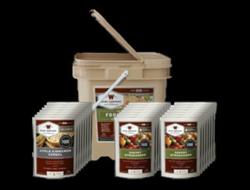 Destin, FL (PRWEB) October 19, 2012
Wise Food offers premium freeze-dried meals for emergencies and camping. After building a strong following, the American made, Utah based company will be raising the prices of their popular non-perishable foods. Disaster Relief Supply, being a major dealer of Wise foods, encourages customers to buy out remaining stock before the prices go up.
Freeze-Dried foods have long been grouped into the "MRE" Category, but Wise foods and other dehydrated food manufacturers like "Mountain House" have attempted to update the status quo by providing quality, good-tasting meals. With the additional of Wise Foods to Disaster Relief Supply, online and in-store traffic increased and new customers were enticed by the hard-to-find (in brick and mortar stores) products.
Customers can expect to see these increases starting November 1, 2012, and will include all Wise Food products. To find out more about Wise Food ready-to-eat meals, visit Disaster Relief Supply.