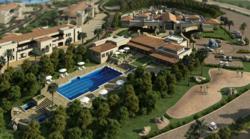 We are very excited to have Modu and his group of professional trainers join the Diamante team.
CABO SAN LUCAS, MEXICO (PRWEB) October 19, 2012
Diamante Cabo San Lucas (Diamante), a private oceanfront community and golf resort on the Pacific coast has announced an exclusive agreement with Cabo fitness guru, Modu Seye.
Modu is launching a comprehensive fitness program for Diamante and is helping with the introduction of the resort's state-of-the-art workout facility. The Diamante Health and Fitness Club is a 6500 sq. ft., stand-alone building specifically designed to meet every fitness skill level and need, and it is the first in a series of new facilities that will provide fitness, training, and wellness services within Diamante's Resort Project.
Using his personal training expertise, Modu has provided input on the facility's design and has chosen top-of-the-line workout equipment to assist in structuring fitness programs and planning fitness classes. Modu's programs will be based on his past success in leading clients toward a lifestyle of health and wellness.
Modu is a native of West Africa and came to the United States eleven years ago. After earning his Bachelor's and Master's degrees from the University of Nebraska at Omaha, he moved to Los Angeles where he became a personal trainer. He gained a loyal following by creating a personalized fitness regimen to meet the needs of each client. In 2009, he founded MODUVATED, a vision of fitness and healthy living, which later led him to Los Cabos where he and his team have led daily beach boot camps along with personal training sessions for residents and vacationers.
"We are very excited to have Modu and his group of professional trainers join the Diamante team," said Diamante CEO, Ken Jowdy. "His skills and training techniques will provide our Members with the one-of-a-kind fitness experience that only Diamante can offer."
The Diamante Health and Fitness Club boasts a top-of-the-line workout center, weight room, spa, lap pool, tennis court and aerobics area. Modu has always emphasized the importance of training outdoors to achieve fitness goals, and he is excited about Diamante's vast open spaces that will be developed as an outdoor gym. Diamante's 1,500 acres of varied landscape, including one and a half miles of dune filled beaches are ideal for running, biking, and dune training.
"You must first be able to maneuver your own body weight, that's my first belief in fitness," said Modu. "The unrivaled space and terrain provided by Diamante's outdoor gym will allow people to train to their individual capabilities and accomplish each of their training objectives."
Group fitness classes will be offered to Diamante Members and guests during their stay, and will include yoga, boot camp training, spinning, body sculpting, zumba and suspension training (TRX), just to name a few. New classes will be added based on Member input. Local residents will also be able to join the Diamante Health and Fitness Club during the first year for a fee. Long-term fitness programs will be offered and will be customized by Modu and his team to accommodate the specific goals of each individual so they can continue the program when they return home.
"Our training focuses primarily on functional training. From the average Joe to the fitness professionals - anyone can use our fitness program," said Modu. With all of his followers, Modu stresses the idea that "fitness is a lifestyle."
Diamante's fitness program headed by Modu and his team will begin with a Grand Opening Reception by invitation on November 9, 2012.
For more information, call (866) 901-1456 or visit http://www.DiamanteCaboSanLucas.com.
# # #
ABOUT DIAMANTE CABO SAN LUCAS
Diamante Cabo San Lucas is a private and fully integrated Master Planned Resort Community located on the Pacific Coast, 5 miles from the City of Cabo San Lucas and 40 minutes from San Jose International Airport. Diamante spans 1,500 acres of pristine property with 1.5 miles of stunning Pacific coastline. Phase One of the Real estate development includes: 78 Sunset Hill custom home sites, 66 Golf Villas and 40 Estate lots on the beach, and 10 Residence Club units, along with 10 penthouse residences atop the Dunes Course Clubhouse. For more information visit DiamanteCaboSanLucas.com.