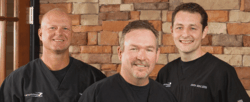 Fort Worth, TX (PRWEB) October 19, 2012
Fort Worth Dental's Dr. Zang, Mund and Mund are now offering the Laser Assisted New Attachment Procedure to patients who suffer the debilitating effects of gum disease. This new periodontal treatment, LANAP, uses a laser to selectively eliminate diseased tissue and bacteria without the need to cut the gums with a scalpel.
During the procedure, the dentist will probe the gaps between the teeth and gums, or the pockets, to determine their depth. The PerioLase MVP-7 laser is used to disintegrate the diseased tissue and bacteria. It also denatures the calculus or tartar that has collected below the gum line. This makes it easier for the dentist to use ultrasonic scalers to eliminate these deposits. Next, the laser is used on the soft tissue to help it form a clot, which seals the gum tissue to the teeth to help it re-attach without the need for sutures. The laser also stimulates regeneration of the bone.
Periodontal or gum disease is caused by bacteria that collects in the pockets of the gums. In the beginning stages, the gums may become sensitive, although this does not always occur. Next, the gums will often bleed when brushed, and as the disease progresses the gums begin to detach from the teeth and the pockets are deepened. Eventually, the gums can recede and the teeth will get loose and may even fall out. In addition to these dental issues, the disease has been connected to such health problems as heart disease and low birth-weight babies. As serious as these problems are, many of the millions of adults across the country that suffer from the disease do not seek treatment.
The dentists at Fort Worth Dental hope that with the advent of the new LANAP procedure for the treatment of gum disease more people will be willing to seek the treatment that they need. Ultimately, periodontal disease is very treatable and patients who do not seek treatment may be suffering needlessly. For more information on the LANAP procedure, visit http://www.fortworthdental.com.
Fort Worth Dental is a general practice offering patients personalized dental care for Fort Worth, TX. Dr. Terry M. Zang, Dr. Arthur J. Mund and Dr. Justin Mund are all dedicated to their dental practice, which offers the recent FDA cleared laser procedure for gum disease and periodontal treatment. Focused on preventative, restorative and cosmetic dentistry, they each have unique attributes for the practice. To learn more about Fort Worth Dental and their dental services visit their website at http://www.fortworthdental.com.