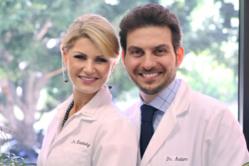 Los Angeles, CA (PRWEB) October 19, 2012
Alexandre Amir Aalam, DDS, and his wife, Alina Krivitsky, DDS, are thrilled to announce the opening and accepting of new patients for their private practice, the CENTER for Advanced Periodontal & Implant Therapy. The CENTER is focused on providing patients with excellent and skilled care, with the goal of restoring oral health and aesthetic appearance in a relaxing environment. "Our goal was to create a spa-like atmosphere where patients did not feel nervous or anxious when undergoing treatments, while giving them the best care possible," says Dr. Krivitsky.
Both Dr. Aalam and Dr. Krivitsky are firm believers that oral health is not only connected to overall body health, but also that oral health creates self-confidence within people. Dr. Aalam specializes in dental implants that have numerous benefits for patients who are missing teeth and currently wearing dentures. "Obviously the aesthetic of having a full, bright, smile is life-changing, but implants can also improve speech and comfort with chewing," says Dr. Aalam.
Dr. Krivitsky also specializes in dental implants and has a strong interest in soft and hard tissue augmentation procedures. Gum disease and gum recession are extremely prevalent oral health issues with patients today, and Dr. Krivitsky is passionate about helping to treat those issues.
There are different procedures that can help with these types of periodontal diseases, some are minimally-invasive with little to no downtime post surgery. Depending on the severity of the recession gum grafts or gum lifts are a good option. Gum grafts are procedures that help to create more healthy and attached gums to prevent further gum recession and to help cover exposed roots.
Dr. Alexandre Amir Aalam and Dr. Alina Krivitsky are both alumnus of the prestigious Ostrow School of Dentistry at USC and are still heavily involved in academia and giving back to future periodontists at USC.
If you'd like to schedule a patient consultation with either Dr. Aalam or Dr. Krivitsky to learn more about the health benefits of dental implants and gum grafts, please visit their website at http://www.implantperiocenter.com or call their office at 310-826-8242.