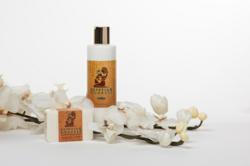 I have been using the Egyptian Goddess roll-on oil now for the last 10 years or more because I love it! ... I absolutely love it and I don't even care to try any other scent, so, please don't ever stop making Egyptian Goddess!!!
Christine V.
Graton, CA (PRWEB) October 20, 2012
Auric Blends releases Egyptian Goddess Lotion to the teeming masses of Goddesses who've been praying for it for the past couple of years. Continually inspired by the praises of their best-selling fragrance, Auric Blends most recent release, Egyptian Goddess Body Lotion, has already proven to be a winning combination of hydrating and softening lotion ingredients blended with their top performing fragrance.
Product Development Manager, Danielle Letourneau, explains, "We've taken steps to ensure that we are responding to our customer's demands for more products in their favorite fragrance. What started as a simple roll on perfume oil has become our flagship fragrance available in a Perfume Spray, Body Soap, Solid Perfume and now a Body Lotion. The customer response has been fantastic so far and we look forward to more feedback as this new product expands into the marketplace."
The body lotion is filled with hydrating botanicals, soothing oils and fragrance. It's the first in an anticipated collection of their top selling fragrances. Available now through the holidays.
You can find out more about Auric Blends at their website and on Facebook.
Egyptian Goddess lotion is available in an 8 ounce container for $15.95 exclusively on their website at http://www.auricblends.com
About Auric Blends
Founded in 1993 and located in Northern California, Auric Blends manufactures and distributes perfume, incense and other fragrance products to stores across the United States and internationally. Their fragrance products are sold by thousands of retailers nationwide including Whole Foods, CVS, Sprouts Farmers Markets, Raley's and Walgreens. Egyptian Goddess perfume is also sold on drugstore.com and amazon.com.
CONTACT
Danielle Letourneau
Marketing Manager
http://www.auricblends.com
800-882-7247 ext. 119