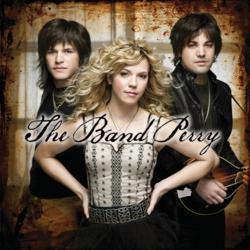 Omaha, NE (PRWEB) October 19, 2012
The opportunity to meet The Band Perry will be at the RFD-TV and RURAL TV studio booth at this year's National FFA Convention and Expo in Indianapolis on Wednesday, October 24th from 12:30-2:30pm. Simply by stopping by the RFD-TV and RURAL TV studio booth, convention-goers will have the chance to have their picture taken with the National FFA Convention and Expo's featured performer.
The Band Perry's style combines classic Country with an eclectic infusion of Rock, Gospel and Soul. Their self-titled debut album, THE BAND PERRY, was released in October 2010 by Republic Nashville and one year later was certified Platinum.
A long-time supporter of FFA, RFD-TV is unveiling the brand new RFD-TV studio booth to broadcast the entire National FFA Convention and Expo and exclusively host the autograph session with The Band Perry. Guests at the convention can also stop by the RFD-TV studio booth to view the record-setting $1 million donation given by the FFA by Rural Media Group, Inc. (RFD-TV/RURAL TV) or send a post card to a loved one from the RFD-TV Post Office.
About Rural Media Group, Inc.: Rural Media Group, Inc. owns and offers the largest library of rural-themed programming in the world. Now distributed into over 61,000,000 homes by every major cable & satellite operator in all 50 states, RFD-TV, RURAL TV, & FAMILYNET anchor Rural Media Group's growing list of properties dedicated to providing traditional, family-oriented television programming with a special focus on the rural lifestyle proving to be so popular with both urban and heartland viewers. Supported by over 140 independent program producers, the networks are uplinked from studios located in Nashville, TN, with RMG's corporate offices based in Omaha, NE. News bureaus in Washington, DC, Chicago, and Sao Paulo, Brazil, contribute to over 6 hours of news, weather, and markets now being produced daily for the network and the company's interactive web sites. RFD-TV The Magazine recently passed the 200,000 paid subscriber milestone, while RFD-TV The Theatre operates year-round in Branson, MO. The company's interactive, digital television network, MyRURALTV.com, offers regional advertising opportunities for all archived network programming, and provides extensive coverage of rural conventions, music festivals, farm, livestock, and horse shows from around the globe. For more information, visit http://www.rfdtv.com and http://www.myruraltv.com.