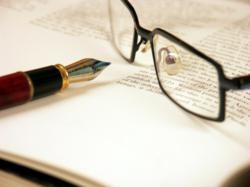 So, racing an inexorable deadline they finally arrive at their desk, ready to write – but apparently no one alerted their brain.
(PRWEB) October 22, 2012
The Growth Company's CEO, Lynne Curry, Ph.D., SPHR, provides coaching in many different fields of the business environment. One subject she has recently taught to a group of employees is how to surmount "writer's block." Today, Dr. Curry reveals this advantage to inquiring clients in an attempt to ignite a speedier, more effective approach to writing business documents.
Dr. Curry starts of by setting up a common scenario in an office environment. Sometimes every imaginable circumstance conspires against a person starting that written report on time. So, racing an inexorable deadline they finally arrive at their desk, ready to write – but apparently no one alerted their brain. There they sit – facing a blank computer screen and writer's block. They get up; grab a cup of coffee and the blank page just sits there – no good ideas, not even a first sentence.
"What's the answer to writer's block?" asks Dr. Curry. First, realize that while most of us occasionally run into writer's block, few of us experience talker's block. She says "Consider what happens when any one of your friends meets you after work and asks 'Hi, what dumb thing did your boss do today?'" Could someone imagine sitting there and responding "Just a minute, I don't have an answer yet. I've got talker's block"? Not a chance.
Thus, Dr. Curry says when a person needs to quickly unfreeze their thoughts and jump-start their writing – they should use their talking ability. "Picture a friend sitting in front of you and imagine yourself telling your friend what you want the readers of your report to understand or do once they read your report" advises Dr. Curry. As soon as the sentences begin flowing, start typing. One shouldn't slow themselves down by editing – just talk and transfer the words to paper as fast as they can type.
Dr. Curry explains "Talking out your thoughts blasts through a writer's block because you generally let yourself speak more freely than you let yourself write – particularly when you face a tight deadline or fear scrutiny from those who might read your report. By giving yourself free rein you let your thoughts get out – and then you can edit them." Writer's block actually comes from the false belief that the written word flows perfectly from the brain to the page and that our writing must be flawless before we'll commit to placing it on paper. "Not true" states Dr. Curry. We need to write first – so we have enough on paper to edit.
Finally, Dr. Curry reveals that if talking out what a person wants to say in their report doesn't work for them, they should try circular brainstorming as a method for jump-starting their writing. Dr. Curry explains that this can be done by writing the essence of the subject in several words in the center of a sheet of paper and then begin making notes about any ideas concerning the subject. If one thought leads to another, follow the train of thought. "If your next thought relates to the topic but not to your last thought make your notes in a new area of the page. When you're making notes, avoid the impulse to sort them in any logical format or to list them one after another straight down the page. By sidestepping the constraint logic often imposes, you unleash an easier, often faster creative idea flow." According to Dr. Curry, the trick to writing easily and fast is getting words on paper first, editing second.