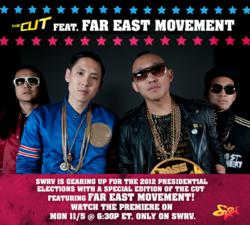 (PRWEB) October 22, 2012
Today Music Choice kicks off its special election coverage across all its platforms with the 'Your Voice, Your Choice' pro-social campaign. The campaign is geared to aid consumers with the knowledge, facts and resources in preparing for the upcoming 2012 Presidential Election. #MCVote
MC & SWRV sat down with artists including Far East Movement, Motion City Soundtrack, Capitol Cities, 9th Wonder, Skyzoo, Buckshot, & Rhapsody - to get their take on who they want to see in the oval office and what issues are important to them. MC hit the road this summer and took part in the 2012 Rock the Vote Bus Tour, designed to fully maximize voter registration, education, and engagement efforts as young people face an onslaught of regressive voting restrictions in states across the country. Interviews from students and activists from over a dozen stops and the political conventions were gathered. The results are two very special election themed shows including:
MC On Demand Your Voice, Your Choice Special
Air Dates: Available October 22-November 9th
MC On Demand -> Rock the Vote
See MC hit the streets to get a pulse of how students and music makers alike are rocking their votes for Election 2012.
Your Voice, Your Choice On The Cut!
Air Date: Monday November 5th At 6:30pm On SWRV TV
Voting Booth themed special edition of the popular show The Cut where viewers are encouraged to vote for their favorite Americana/Patriotic themed music videos like P!nk's Hey Mr. President, Miley Cyrus' Party in the USA, Jay Z & Kanye West's Otis, and Beyonce's Who Runs the World.
For more information on Music Choice, log on to http://www.musicchoice.com