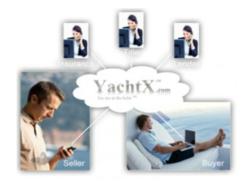 "Our Fall 2012 incentive program is yet another example of YachtX.com's commitment to value innovation," said YachtX CEO, Fraser Seymour. "Since YachtX.com removes the middleman, there is no longer a need to cede control over a boater's sales outcome."
Frederick, MD (PRWEB) October 19, 2012
YachtX, Inc. today announced a new incentive pricing program for the Fall 2012 boat show season. Under the new program, the boat seller fees are reduced to $49.95/4 weeks and the first 4-week period is a free trial. Membership in YachtX.com remains free of charge for boat buyers and for third-party providers of marine insurance, finance and title documentation services.
YachtX.com removes the brokerage 'middleman' from the process of buying and selling high-value boats and yachts, guiding both buyers and sellers through the entire transaction. We do this by providing intelligent, convenient and secure web-based services that simplify and streamline the yacht sales process. YachtX.com uses 'cloud-based computing' to provide private user 'dashboards' accessible on a 24/7 basis by computer, tablet PC or smart phone, to deliver marketing and sales management services with:
· No Sales Commission – now just $49.95/4 weeks to sell, free trial
· Complete Guidance – from listing through closing
· Powerful Automation – web integrated marketing, negotiation, escrow, all agreements and documents
· Coordination w/Marine Service Providers – title/documentation, finance, insurance
· Unprecedented Flexibility – no long-term commitment, non-exclusive.
YachtX.com offers unprecedented value to the boating community. For example, seller costs on a boat that sells for $250,000 within 6 months through YachtX.com will be less than $250. In contrast, a brokerage commission for that same boat would be $25,000; a savings with YachtX.com of $24,750!
About YachtX, Inc.
YachtX, Inc., through its web site YachtX.com™ and affiliate web sites, provides the only online yacht exchange service designed to streamline and simplify the yacht sales process, making self-managed yacht marketing and sales accessible to boaters. Our unique and feature-rich web-centric technology provides integrated marketing and automated sales facilitation on a mobile, 24/7 basis commission-free for a superior user experience in terms of transparency, convenience, security and cost.