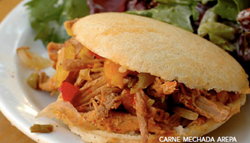 With this new catering menu, we are excited to support local businesses on a larger scale having food that we believe truly appeals to all tastes.
Beverly Hills, CA (PRWEB) October 19, 2012
Venezuelan restaurant Coupa Café is now offering a specialized catering menu, expanding their services to top local businesses. The catering menu builds upon the restaurant's Venezuelan specialties, twists on American favorites, as well as traditional cuisine. Jennifer Harrison, their Palo Alto Catering Coordinator has moved to Beverly Hills to officiate the catering.
Chef and owner Camelia Coupal says, "With this new catering menu, we are excited to support local businesses on a larger scale having food that we believe truly appeals to all tastes."
The catering menu allows businesses to host special events from small meetings to large productions, at the office or in your home. Coupa Café even offers their elegant restaurant for catered events like Social Media Breakfast Los Angeles, Eventbrite, and filmings, all in the heart of Beverly Hills. World-class tastes can be brought to early meetings with arepas and other great Venezuelan specialties like the perico and criollo, or the traditional eggs, muffins, and bagels. Breakfast packages/"travelers" are perfect for film production sets, offering three on-the-go varieties serving up to a dozen people each. With a concise understanding of the timeliness of business, Coupa compiled an appetizer menu full of bite-sized foods such as tequenos and cachapas in addition to the international offerings bruschetta, sliders, and cheese and hummus platters. For entertaining larger parties, one can present a spread of arepas, empanadas, salads, paninis, and other entrees from the lunch and boxed specialties. Finishing it off, Coupa offers their Arabica coffee, freshly squeezed juices, delicious tres leches dessert, 100% Venezuelan chocolate mousse, and their cookie and brownie assortments to tantalize your taste buds.
About Coupa Café
The lively Venezuelan restaurant features a completely new style of international dining which combines the best of Venezuelan dishes with the philosophy of the modern slow food movement promoting the use of organic and fair trade ingredients. Coupa Café is the only restaurant outside Venezuela where patrons can enjoy the nation's shade grown, handpicked, patio sun-dried, super fair trade organic single estate Arabica coffee beans roasted in small batches, along with international sweet and savory delights.
In a wonderful environment with an original California Bow Truss ceiling, the restaurant offers a resort-like spaciousness. The large outdoor seating area resembles a tropical garden with an exotic water fountain and hand painted tiles. The sidewalk seating is ideal for people watching. On cooler days, guests can enjoy the warm indoor fireplace are and a relaxed atmosphere for dining and lounging. The extensive menu also offers delicious arepas, empanadas, paninis, salads, pizza, pasta, crepes, full breakfasts, pastry, and an extensive selective of beer and wine.
Coupa Café, 419 North Canon Drive, Beverly Hills, CA 90210
Open Sun – Tues – 9:00am to 9:00pm, Wed – Sat – 9:00am to 10:00pm
Happy Hour seven days a week from 4-7pm
http://www.coupacafe.com
Follow Coupa on Twitter @CoupaCafeBH
Press Contact:
Judy Dixon
P3R Publicity
Judy(at)myp3r(dot)com
448 S. Canon Dr
Beverly Hills, CA 90212
http://www.myp3r.com
310-552-5318