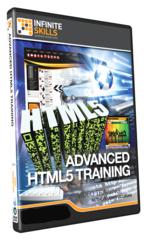 Take your HTML5 Skills To The Next Level
(PRWEB) October 20, 2012
Software training firm InfiniteSkills Inc. this week released its "Advanced HTML5 Training Tutorial," a course designed to assist experienced HTML programmers in learning to program animation, interactivity, and other new capabilities available in the latest version of the web-standard markup language.
HTML5 is the fifth revision of HTML, the programming language that provides the basis for content on the web. The key advances of this version are vast and ongoing improvements in support for multimedia content, while maintaining its user-friendly language which is easily understood by both computers and humans.
InfiniteSkills' tutorial, Advanced HTML5 Training Video, builds on the introductory course which teaches how to build a basic web site including text, graphical content, and tags. The new, advanced course focuses on the multimedia elements, especially the "Canvas" element of HTML5 which allows for the encoding of animation in 2D shapes and bitmap images.
Advanced HTML5 Video Training Video
Course author John Ullman, an HTML expert with nearly 20 years' experience in technology tutoring, guides students through the basics of web design using HTML5. The course builds on the construction of the web site from the introductory course, explaining step-by-step how to modernize websites with data integration, multimedia controls, and even geolocation.
Learning to use the Canvas element and CSS3, components which make animation and interactivity possible directly in HTML5, comprise about half of the course. Here, students will learn how to create animated graphics in canvas, adding effects such as colors, backgrounds, and borders using CSS3.
The course also covers essential elements of custom media controls, demonstrating how to add basic features such as play and pause and customize the controls. Additional chapters cover the fundamentals of making the site compatible with mobile application platforms as well as introductions to both JavaScript and CSS3, formats that work in conjunction with HTML.
http://www.infiniteskills.com/training/advanced-html5-training.html
InfiniteSkills offers its Advanced HTML5 Tutorial Video either as a DVD or a direct download from the company website at a retail price of $99.95. The course is also available bundled with the introductory course, Learning HTML5 Tutorial Video, at a discounted total price of $149.95. All InfiniteSkills titles and formats are compatible with Mac and Windows operating systems, and shipping is available around the globe. Additionally, InfiniteSkills tutorials are supported by project files which correspond to examples in the videos, allowing users to work alongside their instructors right on their computer or iPad.
About InfiniteSkills Inc.
A leader in the field of software training, InfiniteSkills strives to offer the highest quality training available at an affordable cost. InfiniteSkills tutorials are task-oriented instructional videos, teaching complex skills by providing hands-on examples and guiding users as they carry out critical objectives. InfiniteSkills offers a comprehensive range of software titles available as DVDs, digital downloads, as well as iPad editions—keeping with company aim of delivering professional training to customers anywhere they want to learn.