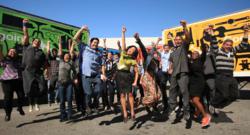 "Our brand transformation reflects the personal transformation of the people we serve and the communities we work alongside. It's as innovative as the program solutions we offer." - Goodwill President & CEO Deborah Alvarez-Rodriguez
San Francisco, CA (PRWEB) October 19, 2012
San Francisco Goodwill, a Bay Area institution on the cusp of its 100th birthday, is getting a modern brand look more akin to a tech start-up. The fresh face of Goodwill – seen first on its fleet of 60 trucks, at select donation sites, and in newly opened stores – reflects new innovations in how the social enterprise is delivering on its job training mission.
Said SF Goodwill CEO Deborah Alvarez-Rodriguez, "Our brand transformation reflects the personal transformation of the people we serve and the communities we work alongside. It's as innovative as the program solutions we offer."
The extreme makeover is the work of veteran Bay Area designer Craig Frazier and Goodwill's Tim Murray, a former Target creative director. The two, introduced by Goodwill's pro-bono agency partner BBDO West, collaborated on the brand's new look, illustrating the diverse range of goods sold at Goodwill stores.
"I was amazed to discover the quality and breadth of what Goodwill sells," Frazier said. "It deserved to be marketed like a best-in-class retailer." To that end, Frazier developed messaging and more than 100 icons to form the infinitely variable graphic system.
"The headlines are meant to have many layers of meaning," he described. "You can find good stuff at Goodwill, you should donate your good stuff to Goodwill, and good comes from both actions."
The Goodwill fleet, now functioning as moving billboards for the brand, will travel the highways between its Menlo Park boutique to the south and Novato store to the north, and deep into San Francisco neighborhoods.
Meanwhile, Murray has developed new ways to introduce the mission of Goodwill to a Millennial audience already predisposed to the brand. Goodwill's new Pacifica store is the first to carry the brand look and messaging in posters and signage -- becoming the prototype for Goodwill stores going forward.
Signage ties the simple acts of shopping and donating to job training assistance, while web videos capture the personal stories of those who've turned their lives around with help from Goodwill. New collateral pieces showcase Goodwill's positive impact in communities through innovative partnerships and programs.
"Goodwill has figured out how to help people step out of poverty and into new, sustainable lives." Murray said, "More than 80% of the funding for our services comes from selling donated goods. It's a great, untold story. "
Goodwill Industries of San Francisco, San Mateo & Marin Counties opens doorways to jobs for local people in need. Approaching its centennial in 2015, Goodwill continues to innovate through its e-commerce, specialty boutique, family store, and salvage businesses – which fund local job training, education, and employment opportunities that give people a second chance at a sustainable livelihood. Using the proven methods of The Goodwill Way, the enterprise focuses on people who are coming out of jail, off the streets, and out of addiction, and helps them transform their lives through the power of work. Since the start of the recent economic downturn, Goodwill helped more than 2,000 local people get jobs, readied 7,000 to join the workforce, and hosted more than 47,000 visits at its career center. Learn more at http://sfgoodwill.org.
Craig Frazier is an illustrator/designer who has enjoyed a distinguished career started in 1978. Since 1996, Craig has focused his work on illustration, though he continues to take on special assignments that incorporate both his illustration and design expertise. He is commissioned by national and international design firms, advertising agencies, and publications to create distinct illustrations. He is a frequent contributor to the NY Times as well as business publications like Time Magazine, Fortune, Business Week, Harvard Business Review, and The Wall Street Journal. He collaborates with design firms and ad agencies to promote and brand major corporations. Amongst those companies are Adobe, American Express, Boeing, Chevrolet, Deloitte, Goodwill, MasterCard, Navigant, U.S. Postal Service, and United Airlines. Craig has created seven postage stamps including the 2006 Love stamp and the 2010 and 2012 commemorative Scouting stamps. http://www.craigfrazier.com
"I like to think that one of the explanations for Craig Frazier's expressive and memorable illustrations is that he has been—and still is—a designer. The search for a concept, and not putting anything down until a concept is found, is what makes the end product great work that communicates, often about difficult subjects."
—Ivan Chermayeff
partner, Chermayeff & Geismar