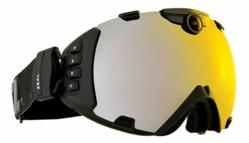 Annapolis, MD (PRWEB) October 19, 2012
Forging the way for technologically savvy goggles, ZEAL Optics announced today that their ZEAL iON HD camera goggle is now available for purchase at Pure Board Shop. The first of its kind, the ZEAL iON is made for documenting adventures on the slopes through its built in HD camera. The ZEAL iON captures 1080p HD quality video and can shoot up to 8 megapixel photos for quick, easy HD imagery without having to take your gloves off. Check out the latest ZEAL iON video footage, shot by ZEAL's pro snowboarders Kimmy Fasani, Austen Sweetin and pro skier Whit Boucher here.
"The ZEAL iON goggle is going to change the way people use POV cameras," said ZEAL pro snowboarder Kimmy Fasani. "With its easy to use playback mode and control placements, there's never a reason to take your hands out of your gloves. This goggle and camera will be a necessity when I'm filming."
Life is a series of moments combined into memories and finally there is a way to capture those moments on the slopes without sacrificing style or performance. With the ZEAL iON you can easily replay footage, set up sequence or timelapse shots, and easily download and integrate with all social media outlets like Facebook, Twitter, Instagram and more to share your memories.
Pure Board Shop opened its doors on May of 2005. After co-owning Evolve Board Shops in Annapolis and Bethesda Maryland from 1993 to 2003, Robby Roberts put Pure on the streets a few years later. Its ease of access and parking make it a destination shop for riders and urban street wear fans alike. With their mix of products and variety in skate, snowboard , surf and exclusive street wear and shoe brands Pure's customers extend far beyond their Annapolis location. Pure prides itself on customer service being its number one priority, with product knowledge and having the right product mix a close second. The store and the website feature an ever growing inventory from brands such as Nike SB, Nike Snowboarding, Travis Rice, Lib Tech, Adidas skateboarding, Vans, Levi Skateboarding, Diamond, HUF, LRG, Neff, RVCA and The Hundreds, as well as a large selection of Sunglasses and other accessories. The shop also prides itself on having the largest inventory of longboard equipment in the area; with brands like Landyachtz, Rayne, Caliber, Cult, RAD, Abec11 and many more. Pure puts on skateboard jams and video premieres at their local skateboard park as well as sponsors many longboard slide jams and races in the Metro Area.
Contact Pure at 410-267-7669.
Their new website will be up soon; pureboardshop.com