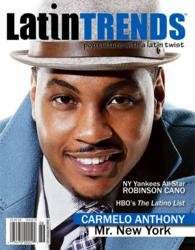 LatinTRENDS Magazine "pop culture with a Latin twist"
New York, NY (PRWEB) October 22, 2012
NY Knicks standout star Carmelo Anthony, whose celebrity status has made him as famous on the court as off of it, is the cover star of the October 2012 issue of LatinTRENDS Magazine.
In the exclusive interview with the magazine, two-time gold medal Olympian Anthony -- whose recent business venture into the energy drink market, PowerCoco, remains true to both the essence of athleticism and his Latino heritage -- talks about everything from "Lin-sanity" to winning the gold medals at the Olympics, to what hoops fans can expect from the Knicks this year.
Keeping up with the "trend" of featuring "pop culture with a Latin twist," LatinTRENDS October 2012 is also proud to feature an exclusive interview with NY Yankees second baseman Robinson Cano, features on the various celebrities featured in the HBO original documentary The Latino List (including Eva Longoria, Pitbull, and Judy Reyes), and an interview with astronaut-turned-politician Jose Hernandez.
In addition, LatinTRENDS -- who was the first to feature NY Giants wide receiver Victor Cruz on a cover -- offers a recap of Cruz's career from his humble origins to his superstardom.
Additionally, LatinTRENDS features its mainstay sections on Metropolis (travel within Latino countries), On the Move (things to do in NYC), and Health & Beauty...including a great article written by a Buddhist monk about "10 Ways to Have Peaceful, Loving Relationships."
LatinTRENDS will host the eleventh Annual Latino Trendsetter Awards and Scholarship Gala on November 27th. The event celebrates excellence by awarding leaders in business, education, entertainment, art, health, law, technology and community service among other areas. LatinTRENDS also gives scholarships to New York area students enrolled in CUNY. Juan Guillen, LatinTRENDS founder & CEO states; "The Latino Trendsetter Awards recognizes accomplished men and woman in our communities. It's a platform for networking, celebration and inspiration. We give scholarships to deserving students in New York, as today's students will become tomorrow's leaders...tomorrow's trendsetters".
For more information on this millstone event, visit: http://www.latinotrendsetter.com
LatinTRENDS, a multimedia company, whose mission is to entertain, inform and inspire forward thinking Latinos in the US. The October 2012 issue of LatinTRENDS is on newsstands NOW! You can also see a digital sample on: http://www.latintrends.com