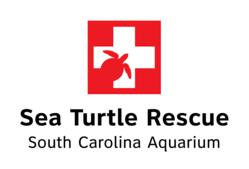 CHARLESTON, S.C. (PRWEB) October 19, 2012
It is a team effort for sea turtles! Friday, October 19, 2012, the South Carolina Aquarium's Sea Turtle Rescue Program along with the National Aquarium's Marine Animal Rescue Program, will release three sea turtles. The turtles came to both facilities either sick or injured; all have undergone a successful rehabilitation process and are ready to once again hit the open seas.
More about the turtles being released:
Merigo:
Merigo is a 9-pound juvenile Kemp's ridley sea turtle, the most endangered out of all of the sea turtle species. Merigo was brought to the South Carolina Aquarium's Sea Turtle Rescue Program in January. S/he was part of a large group of sea turtles found cold stunned off the coast of Boston Massachusetts. Because sea turtles are cold-blooded reptiles, they become hypothermic when exposed to cold water temperatures for long periods of time. All were flown down to South Carolina for treatment. Merigo's treatment included antibiotics and vitamin injections. He is the last of the group to be released and has been actively swimming around his tank, getting ready to join the others in the deep blue sea.
Charlie:
Charlie is a 150-pound loggerhead sea turtle captured by the Department of Natural Resource's Research Vessel the Lady Lisa in June. Charlie was found with a stingray barb in his front left flipper and a puncture wound in his neck. Charlie's treatment included antibiotics and wound treatment. He has fully recovered from his injuries and has been spotted swimming around his tank, surely getting ready for his trip back to the Atlantic Ocean.
Olympian:
Olympian is a 9-pound juvenile green sea turtle that was brought to the National Aquarium Marine Animal Rescue Program after being spotted floating off the New Jersey coast in August. Olympian was treated for over-inflated lungs and possible pneumonia. Staff monitored Olympian's behavior, diet and health and a few weeks later he was found resting on the bottom of his tank. The National Aquarium team has attached a satellite tag to Olympian and hopes that the tag will lend insight as to where the turtle overwinters, and if/when it returns to the east coast next year. You can keep an eye on Olympian's journey by clicking this link: http://aqua.org/care/marine-animal-rescue-program/animal-profiles/olympian
These three sea turtles will be released by boat Friday morning, October 19, 2012. You can find photos and video from the release on the South Carolina Aquarium Facebook page: http://www.facebook.com/scaquarium.
It costs approximately $36 per day to treat each sea turtle in the hospital, which amounts to a program budget of close to $321,000 each year. The Sea Turtle Rescue Program is part of the South Carolina Aquarium, a 501(c)3 non-profit that relies on the support of the community to treat and rehabilitate these endangered species. You can help support the program by making a donation and by visiting the Sea Turtle Hospital on a behind-the-scenes tour. Just go to http://www.scaquarium.org for more information. With your support, staff can continue to rehabilitate sick and injured sea turtles found along our coast.
If you find a sick or injured sea turtle, contact the local police department or the South Carolina Department of Natural Resources hotline at (800) 922-5431.
For all media inquiries, please contact Kate Dittloff at (843) 579-8660 or kdittloff (at) scaquarium (dot) org.
About the South Carolina Aquarium Sea Turtle Rescue Program:
In partnership with the South Carolina Department of Natural Resources (SCDNR), the South Carolina Aquarium Sea Turtle Rescue Program works to rescue, rehabilitate and release sea turtles that strand along the South Carolina coast. Located in the Aquarium, the Sea Turtle Hospital admits 20 to 30 sea turtles each year. Many of these animals are in critical condition and some are too sick to save.
According to SCDNR, over the last 10 years the average number of sea turtle standings on South Carolina beaches each year is 130. Of these, roughly 10% are alive and successfully transported to the Sea Turtle Hospital. To date, the South Carolina Aquarium has successfully rehabilitated and released 99 sea turtles and is currently treating5 patients. The average cost for each patient's treatment is $36 a day with the average length of stay reaching nine months.
About the South Carolina Aquarium:
The South Carolina Aquarium, Charleston's most visited attraction, features thousands of amazing aquatic animals from river otters and sharks to loggerhead turtles in more than 60 exhibits representing the rich biodiversity of South Carolina from the mountains to the sea. Dedicated to promoting education and conservation, the Aquarium also presents fabulous views of Charleston harbor and interactive exhibits and programs for visitors of all ages.
The South Carolina Aquarium, a 501(c)(3) not-for-profit organization and is open Daily from 9 a.m. to 5 p.m. The Aquarium is closed Thanksgiving Day, half day Dec. 24 (open 9 a.m. to 1 p.m.) and Dec. 25. Admission prices are: Toddler's (3 and under) free; Youth (4-12) $14.95; Adults (13+) $24.95. The Aquarium plus the 4-D Theater experience is free for Toddler's, $19.95 for Children, $29.95 for Adults. The 4-D Theater experience only is $6.95 for Children and adults, and free for Members. For more information call 843-720-1990 or visit scaquarium.org. Memberships are available by calling 843-577-FISH.
About National Aquarium Marine Animal Rescue Program
Since 1991, the National Aquarium's Marine Animal Rescue Program (MARP) has been responsible for responding to stranded marine mammals and sea turtles along the Delmarva (Delaware, Maryland, and Virginia) Peninsula, primarily along the nearly 7,000 miles of Maryland coast. MARP works directly with NOAA, USFWS, Maryland Department of Natural Resources, and regional and national stranding partners to respond to stranded animals and collect data used to better understand aquatic animals that are still very much a mystery to modern science
MARP has successfully rescued, treated, and returned nearly 100 animals to their natural habitats, including: harbor, gray, harp, and hooded seals; Kemp's ridley, green, and loggerhead sea turtles; rough-toothed dolphins; a harbor porpoise; a pygmy sperm whale; and a manatee. To learn more about MARP and how you can help continue this important work, visit http://www.aqua.org/MARP.
About National Aquarium
National Aquarium inspires conservation of the world's aquatic treasures. It champions environmental initiatives by engaging with visitors, volunteers, education groups and schools to actively participate in the preservation of the world's natural resources and living-systems. National Aquarium, in Washington, D.C. and Baltimore, MD, delivers meaningful experiences through its engaging living collections; our science-based education programs and our hands-on experiences in the field from the Chesapeake Bay to Costa Rica; and partnerships and alliances with like-minded organizations around the world. For more information on National Aquarium, visit http://www.aqua.org.
###