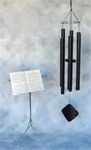 Music of the Spheres' pledge to quality products is one of the many reasons why I'm proud to sell Tenor Windchimes.
California (PRWEB) October 20, 2012
Eco Wind Chimes is again selling Music of the Spheres® Tenor Windchimes. The company had back orders of the products because of its adherence to strict quality assurance standards. There was a problem with the sound quality of the aluminum tubing determined through daily quality control efforts.
Music of the Spheres'®Tenor Windchimes, which are manufactured in the USA, are considered to be one of the world's most stunning wind chime products. "There was an issue with the sound quality of the aluminum tubing for the chimes. Instead of letting a sub-par product go out, Music of the Spheres® made an honorable decision to correct the error," said Stephen Betzen, Owner of Eco Wind Chimes. "To seek out and address a potential concern shows what a great American-Made ambassador Music of the Spheres® truly is, especially since making the decision cost the company money. Music of the Spheres'® pledge to quality products is one of the many reasons why I'm proud to sell Tenor Windchimes to my eco conscious customers."
Eco Wind Chimes shipped the company's first back order for Tenor Windchimes this week. More orders will be fulfilled soon. Tenor Windchimes are five feet in overall length and weigh twenty-seven pounds. They come in a variety of musical scales,, including Gypsy, Japanese and Whole Tone. Listen to a sound sample by clicking here: http://www.ecowindchimes.com/Tenor-Wind-Chimes-s/33.htm
About: Eco Wind Chimes was launched in 2005. The soothing products produced by Eco Wind Chimes match the company's dedication to quality workmanship, affordability, and purposeful retail. All Eco Wind Chime products are made, and sourced, in the USA. More information, and a media kit, can be found by clicking here: http://www.ecowindchimes.com/articles.asp?ID=1