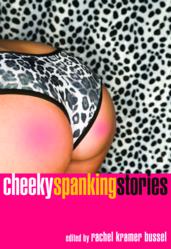 This book highlights not only the diversity of sexual issues prevalent in the public discourse but likewise the importance of all things sexual to human culture.
—Library Journal Reviews
(PRWEB) October 19, 2012
Cleis Press bestselling author and editor Rachel Kramer Bussel is one of the go-to media experts on subjects of erotica and the growing fascination with 50 Shades of Grey. Today, Rachel offers her true confession in "My Not So Secret Sex Life" on Katie Couric's website. She was featured by NPR's Tom Ashbrook on his radio show On Point. Of the commentators, Rachel was the only one to bring up the growing controversy around the book.
Rachel Kramer Bussel will be at the Texas Book Fair October 27-28, on a panel with Zane.
Don't miss Rachel's new book Cheeky Spanking Stories, which is publishing today, as well as her other bestsellers.