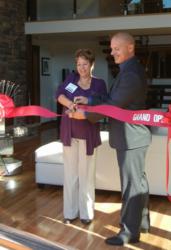 Timber Block's R-30 insulation is two times better than traditional insulation values and four times better than traditional stacked logs.
Charlotte, NC (PRWEB) October 19, 2012
People with dreams of building a state-of-the-art log home can visit the first U.S. Timber Block model open to the public on Saturday, October 20. The public is invited to enjoy a light breakfast and genuine North Carolina BBQ for lunch.
The Hildebran home, located at 3708 Curleys Fish Camp Road, is also the location of Timber Block's U.S. headquarters. The company originated in Quebec. Visitors get ready for a surprise; it's not the drafty, dark and damp log home from the days of Abraham Lincoln. Timber Block homes, http://www.timberblock.com, are luxurious, energy efficient, green and meet new energy code requirements that leave competitors far behind.
Timber Block leaders will be on hand Saturday at the model home to explain the company's unique technology, which is expected to draw log home enthusiasts from across the country to the Charlotte area for a firsthand look.
The company's strongest selling point is its patented R-30 foam injection-filled log. The R-value system is used to measure the energy efficiency of a home's resistance to heat flow. The higher the number, the better the insulation.
The R-30 insulation rating is unique to Timber Block log homes and exceeds all new and proposed state building codes. In comparison, a typical home is R-15 or below and log homes are between R-6 and R-8 on average, according to Timber Block President Craig Johnson, who says the wall structure maintains the R-30 rating levels during the life of the home.
In 2011, Timber Block was awarded the prestigious Energy Star certification, in Canada. The certification is part of a federal government initiative to promote energy efficiency guidelines that improve new homes' energy efficiency by 25 percent.
Another huge advantage over traditional log home: a panelized, stacked log system that prevents settling, cracking and separation. The proprietary modular log wall system also enables any general contractor to assemble the structure in hours, not weeks or months and the aesthetic is faithful to the log home concept.
That's why Gerald Hamrick, a Florence, SC physician, has chosen a Timber Block home for retirement in the mountains outside Asheville, NC. Several factors drove Dr. Hamrick to Timber Block, including the fact that his two brothers as well as friends have consistently complained about their traditional log home models. "Listening to them and visiting their homes over the last few years, I realized that the lack of efficiency and maintenance were big issues for them," he said. "Problems included settling of the homes and separation of the logs, which they had to recaulk. They also thought the energy efficiency should have been better, especially in the colder months," Dr. Hamrick says.
"When we looked at a second home in the mountains and went with a log home, we were not interested in a traditional log home because of that. We started looking at alternatives for energy efficiency and that was a big part of what drove us to Timber Block," he added.
Timber Block's technologies are also green, including the high pressure insulating foam injection procedure, which contains no ozone depleting substances. And, only 40 percent of the wood is used to manufacture the structure, which helps save on the average of 30 trees per home. The remaining 60 percent of the logs are used to make other components such as 2x4s and 1x2s
"The old-style log home is becoming a dying breed because of the new energy codes and an increased awareness that energy efficiency is a necessity for the future, especially as natural energy sources are depleted and costs increase," explains Johnson.
"Timber Block's R-30 insulation is two times better than traditional insulation values and four times better than traditional stacked logs," Johnson says. "Families will be warm, with no drafts, and save money on their energy bills at the same time - without sacrificing the rustic charm and feel of a traditional log home," he added.
An average heating bill for a Timber Block log home can be less than half of a similar sized standard home," he added.
Bringing Jobs to the Charlotte Area
With the model home and U.S. headquarters located in the Charlotte area, Timber Block will be bringing much needed jobs to the area – first by hiring staff to work at the model home full-time. Timber Block is also looking at possibilities of moving U.S. production to the area, which would generate an estimated 300 additional jobs in the next five years. Secondary work will also be generated through local suppliers, trades people and area merchants, Johnson says.
On average, a Timber Block log home costs the same as a custom built home and typically much less than a traditional log home. The energy efficiency built into the construction will decrease the total cost of home ownership for many years to come, saving the home owners thousands of dollars when compared to a traditional log home or even a typical residential property.
About Timber Block:
Timber Block's team of professionals offer a product unmatched in residential or commercial log and timber construction, which provides clients with state of the art , environmentally responsible technology combined with cost-effective building methods. Timber Block provides custom or stock insulated log homes utilizing a revolutionary R-30 insulated log, which is a proprietary and patented product. To reach us and view our stock and custom home designs visit http://www.timberblock.com.